UMD, Defense Department Celebrate Opening of Intelligence and Security Center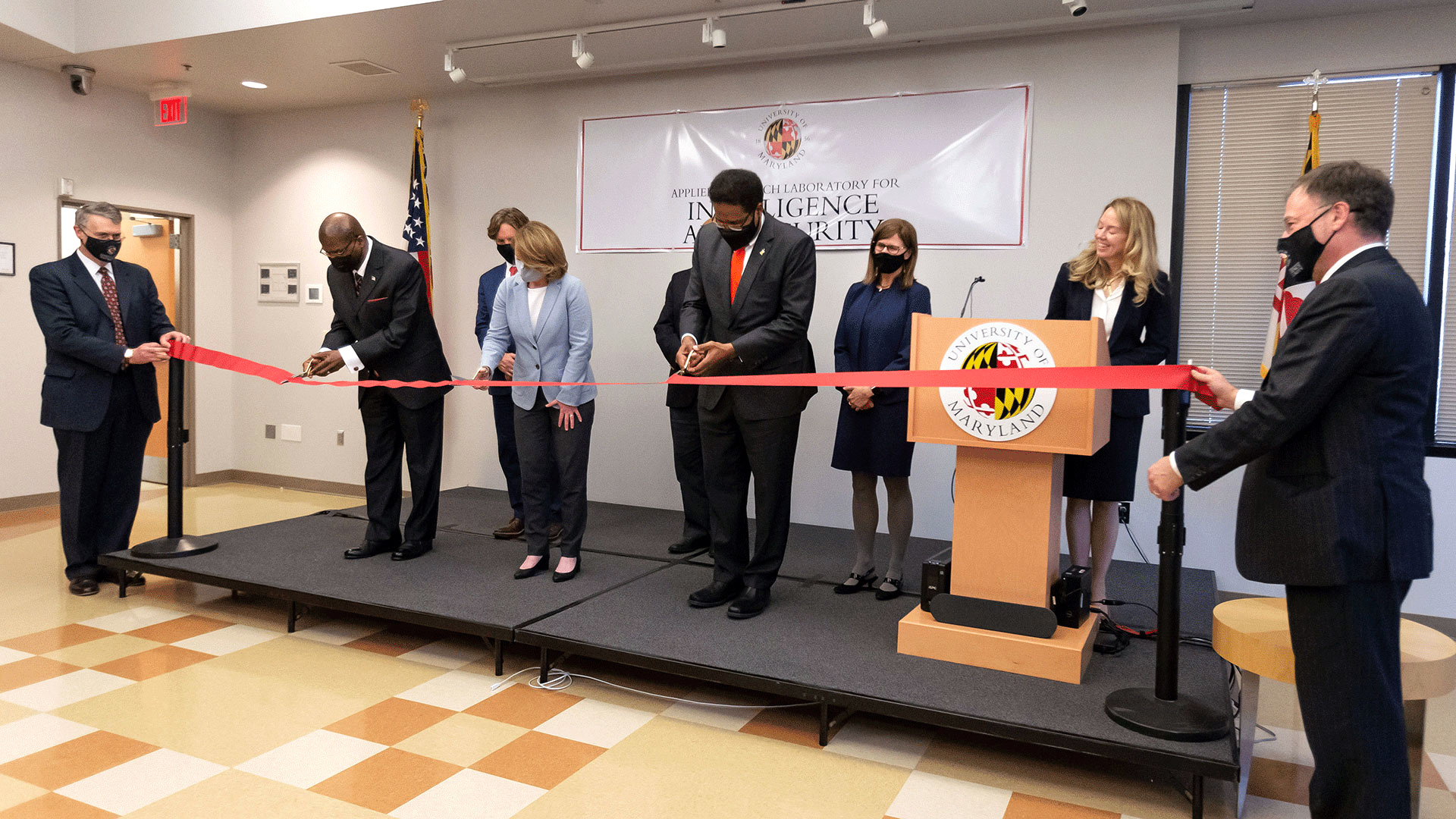 Officials from the U.S. Department of Defense and the University of Maryland gathered Dec. 2 for a ribbon-cutting ceremony to commemorate the opening of facilities that house the Applied Research Laboratory for Intelligence and Security (ARLIS).
Located in UMD's Discovery District, ARLIS is one of 14 designated Department of Defense University Affiliated Research Centers in the nation, and the only one dedicated to solving intelligence and security problems.
ARLIS, established in 2018, is a long-term strategic asset for research and development in artificial intelligence, information engineering, and human systems. The lab combines expertise, research and development in human behavior, social science, culture and language with emerging and advanced technologies. ISR and ECE-affiliated Professor William Regli (Computer Science) is the director of ARLIS.
Kathleen Hicks M.P.M. '93, deputy secretary of defense, said during the event that the United States faces advanced, dynamic and persistent threats from state and non-state actors.
"ARLIS will meet this challenge by taking a human-centered approach to security and intelligence matters," she said. "While the technology is important, our people are our front line in every security and intelligence mission we undertake. That is why ARLIS's emphasis on human understanding is so important."
Ronald S. Moultrie, undersecretary of defense for intelligence and security, said that the event represents the vision and efforts of many people who are responsible for establishing the foundation on which ARLIS stands.
"Their support enables the Department of Defense to keep the nation safe, and to do so in both traditional and creative ways," he said. "The future of intelligence and security needs both advanced technology and advanced human understanding. We need human and technological capabilities, and we need to integrate them into our tradecraft."
ARLIS offers engagement with the broader academic community through the Intelligence and Security University Research Enterprise (INSURE) consortium. INSURE enables responsiveness to emerging needs and access to specific expertise through partnerships with other U.S. academic institutions, including those traditionally underrepresented in DoD contracting such as Historically Black Colleges and Universities (HBCUs).
"The university is tremendously proud of this collaboration with the Department of Defense and grateful for the opportunities it awards our faculty and students to help address ever-evolving threats to national security and to shape the intelligence and security workforce of the future," said Darryll J. Pines, president of the University of Maryland.
ARLIS is also committed to workforce development through the Research in Intelligence and Security Challenges intern program, which offers undergraduate and graduate students a chance to apply their knowledge to real-world problems and provides a pipeline to careers in the intelligence and security fields.
— Thank you to our colleagues at Maryland Today, where this story originally appeared.
Published December 3, 2021