Three TAP Companies Honored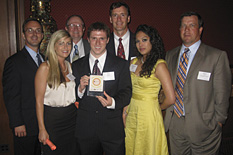 AccuStrata Inc., TRX Systems Inc. and Zymetis Inc., three early stage companies in the Maryland Technology Enterprise Institute's (Mtech) Technology Advancement Program, each took first place in their respective categories at the 2008 Maryland Incubator Company of the Year Awards ceremony on June 10.
The companies were selected from 21 finalists in seven categories.
"All three are promising companies with innovative technologies," said Steve Kozak, executive director of the Greater Baltimore Technology Council and a member of the selection committee. "Each is on the path to greatness and the State of Maryland is better for it."
AccuStrata Inc. (www.accustrata.com), winner in the Best New Incubator Company category, features a patented technology that could make products such as solar cells, flat panel displays and semiconductors less expensive for consumers by improving the precision and yield of manufacturing processes. The company offers a novel system that automatically detects and corrects errors on the fly during the mass manufacturing of thin films. The increased precision gained through AccuStrata's technology could help eliminate some of the estimated $31 billion wasted annually when thin film products fail to meet customer specifications and are scrapped. Thin films are widely used for nanotechnology, optical, military, biomedical and telecommunications applications.
TRX Systems Inc. (www.trxsystems.com), winner in the Best Homeland Security Company category, could save the lives of firefighters and first responders with its Firefighter Sentinel System, comprised of a highly advanced personal tracking device, base station and software. The Firefighter Sentinel System gives responders pinpoint and up-to-date locations of individuals deployed inside a structure such as a burning building. It also functions as a health monitor, detecting and alerting operators of personnel in distress. The system automatically logs all data for replay, post-analysis and training.
The Sentinel research and development has been supported by the National Science Foundation, Technology Support Working Group, Department of Homeland Security, the Laboratory for Physical Sciences, the National Geospatial Intelligence Agency, the Maryland Fire and Rescue Institute, the Center for Fire Safety Research and Development, the Maryland Industrial Partnerships Program and the Maryland Technology Development Corporation (TEDCO).
Zymetis Inc. (www.zymetis.com), winner in the Life Science Category, may hold the key to inexpensive ethanol through an enzymatic process derived from a bacterium found in the Chesapeake Bay. Zymetis' patent-pending technology, developed at the University of Maryland, breaks down any substance consisting of plant matter (cellulose) into its constituent sugars (which are then fermented into ethanol) faster and cheaper than any available solution. Zymetis is developing a pilot plant to convert non-recyclable municipal waste into ethanol in conjunction with Lawrenceville, Va.-based Fiberight. In addition to the Technology Advancement Program, Zymetis has also been actively engaged in other Mtech programs for Maryland technology startups like the VentureAccelerator program, Mtech's Bioprocess Scale-Up Facility, and Mtech's Maryland Industrial Partnerships funding program.
The Maryland Incubator Company of the Year awards, sponsored by TEDCO, RSM McGladrey, the Maryland Department of Business & Economic Development and Saul Ewing LLP, publicly recognize achievements by current clients and graduates of Maryland incubators and provide a forum for the nominees to increase their visibility in the business, technology and investment communities. Application finalists and category award recipients are chosen by a cross-section of the region's most prominent industry leaders and early-stage investors.
Selection criteria for a winning company included: success in achieving its objectives, its technology or product development; growth in revenue or earnings; number of customers and significant customers; technology transfer; attraction of outside investors; and impact on the region. Award recipients were chosen based on their nomination form, onsite visits, and interviews with references.
Published June 13, 2008