Terps Bowl-Bound, 23rd in the Nation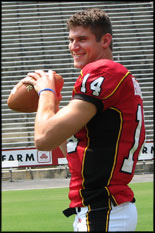 With three weeks remaining in the regular college football season, the
Maryland Terrapins Football team
is ranked 23rd in the nation and tied for the division lead in the Atlantic Coast Conference with Wake Forest. The Terps feature A. James Clark School of Engineering
mechanical engineering major Sam Hollenbach
as incumbent starting quarterback, whose play has improved dramatically over the season.
After a nail-biting win against Virginia, they continued their winning streak against NC State, Florida State and Clemson.
Kickoff for the next Terrapins football game on Saturday, November 11 against Miami is set for 3:30 p.m. EST, from Chevy Chase Bank Field at Byrd Stadium. The game will be a televised taped delay by Comcast SportsNet, available online live pay per view on ESPN360 and broadcast on the Terrapin Sports Radio Network. Upcoming games against Boston College and Wake Forest are on 11/18 and 11/25, respectively.
Published November 8, 2006