Scientific American Honors Alumnus, Research Scientist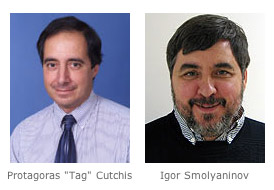 ECE Research Scientist
Igor Smolyaninov
and ECE alumnus
Protagoras "Tag" Cutchis
, a senior engineer at the Johns Hopkins University Applied Physics Laboratory (APL) in Laurel, Md., were selected by
Scientific American
magazine as Research Leaders in the 2006 "Scientific American 50" (SA 50) list.
The magazine's prestigious annual list honors 50 individuals, teams, companies, and other organizations whose accomplishments in research, business, or policymaking demonstrate outstanding technological leadership. Previous SA 50 selections have included Google founders Sergey Brin and Larry Page; Nobel prize-winning neurobiologist Roderick MacKinnon; and high tech innovator Steve Jobs, CEO of Apple. This year's honorees for research leadership were selected for their contributions in a wide variety of areas, including biotechnology, microelectronics, energy, and genetics research.
Smolyaninov was selected for his research contributions in the emerging field of plasmonics. Smolyaninov and his research colleagues at Maryland, including ECE Professor Christopher Davis, are using plasmons, electron waves generated when light strikes a metallic surface, in a powerful new microscope to see nano-scale details that were previously undetectable.
Smolyaninov was also recently cited in an American Physical Society news story for his research in plasmon technology.
Cutchis was cited for developing a device that may enable amputees to communicate desired movements simply by thinking about them. His invention involves an array of electrodes implanted radially around the sheath of a peripheral nerve, recording pulses that travel up and down nerve endings and thus recreating precise stimulations that could be used to control prostheses. Cutchis was recognized for his work in this area earlier this year by APL's annual Invention of the Year Award program, which showcases technologies developed by APL staff members.
A University of Maryland alumnus four times over, Cutchis earned a B.S. in electrical engineering (1979), a B.S. in physics (1979), and an M.S. in electrical engineering (1990), and an M.D. from the University of Maryland at Baltimore (1983).
Published November 6, 2006