Legacy of Warren Isman Offers New Opportunity for FPE Students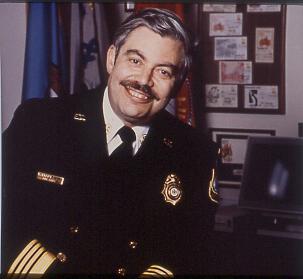 Warren Isman had a long and distinguished career in fire protection service. Originally from New York, with an academic background in electrical engineering and physics, Isman relocated his family to Rockville, Maryland, in 1966 to work as a government contractor. Shortly thereafter, he joined the Rockville Volunteer Fire Department, and in 1968 was offered a full-time position as a senior instructor at the University of Maryland (UMD) Fire Service Extension of the School of Engineering, later renamed the Maryland Fire and Rescue Institute (MFRI). Isman spent his days rubbing elbows with UMD Fire Protection Engineering (FPE) Founding Professors, John L. Bryan and Harry Hickey. He brought his engineering experience into training programs and developed an expertise in pumps and hydraulics, while working towards his master's degree.
After four years on campus, Isman accepted the position of captain at the newly formed Montgomery County Department of Fire and Rescue Services where his mandate was to design and direct the new Fire Training Academy. He rose through the ranks, becoming chief of the department and an internationally renowned hazardous materials expert. Isman later became chief of the Fairfax County Virginia Fire and Rescue Services, and drawing on his engineering experience, formed an urban rescue, cave-in and structural collapse rescue team, which responded to earthquakes and cave-ins all over the world.

Isman traveled around the world, teaching courses on pumps, hydraulics, hazardous materials and incident command becoming one of the most recognized names in fire protection on six continents. He convinced the National Fire Protection Association (NFPA) to start a series of standards, and recommended practices for firefighter response to hazardous materials incidents. Isman helped the NFPA develop a committee and draft NFPA 471 and NFPA 472. While serving as the first chair of the Technical Committee on Hazardous Materials, he was responsible for shepherding these documents through the NFPA development and revision process.

After 30 years of service, Isman passed away in 1991. An outpouring of support – from all corners of the globe – led the International Associate of Fire Chiefs (IAFC) to start a collection of funds devoted to a scholarship, the management of which the NFPA offered to take over. Working with the Isman family, the NFPA has established the Warren Isman Endowed Memorial Scholarship in Fire Protection Engineering, returning the memorial to Warren to his roots at Maryland. With ties as both a student and an instructor, it seems fitting to provide a scholarship to an FPE student at UMD.

"This scholarship is a wonderful tribute to a leader of the D.C. area fire service community, and the father of our Clinical Professor, Ken Isman, who is also an alumnus of the department," said FPE Chair, Jim Milke.

Christian Dubay, Vice President and Chief Engineer at NFPA, echoed that notion: "This scholarship will ensure that Warren's investment in the safety of first responders continues, and that his legacy will live on in future generations of fire protection engineering students."

Awards to FPE undergraduates will be based on merit and support will last for a maximum of four years. For additional information, please contact FPE's Associate Director of Development, Kyle Zeller (kzeller@umd.edu).
Published March 4, 2020