Leading Experts Explore Future of Telecom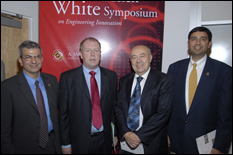 Sprint Nextel's Barry West delivered the keynote address at the 2006 Charles and Helen White Symposium on Engineering Innovation to a full house in the Kim Building lecture hall on October 16.
West described the history behind the innovations he has helped to lead in industry and touched on the future of telecommunications.
West was joined by Andrew Viterbi of QUALCOMM and Rajiv Laroia of QUALCOMM Flarion Technologies in a panel discussion. Dean Nariman Farvardin served as moderator.
View the archived video of the symposium.
View a gallery of photos from the event.
Published October 20, 2006