Kim Receives USM Regents' Faculty Award for Excellence in Teaching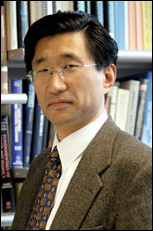 The University System of Maryland (USM) has awarded Department of Mechanical Engineering Professor and Keystone Professor Jungho Kim a 2016 USM Regents' Faculty Award for Excellence in Teaching.
Kim teaches undergraduate and graduate-level courses in heat transfer, thermodynamics, fluid mechanics and energy systems. Additionally, he teaches in the Clark School Keystone Program, which encourages the school's best faculty to teach fundamental courses in order to increase student interest and retention rates. He serves as leader of the department's Thermal, Fluids and Energy Systems division.
Kim is the fifth professor from the Department of Mechanical Engineering to receive a Regents' Faculty Award in five years. Previous recipients include Ken Kiger, 2012 recipient for Excellence in Teaching, Don DeVoe, 2013 recipient for Excellence in Scholarship, Michael Ohadi, 2014 recipient for Excellence in Innovation, and Abhijit Dasgupta, 2015 recipient for Excellence in Scholarship.
Regents' Faculty Awards publicly recognize distinguished performance in 1) Teaching, 2) Scholarship, Research, or Creative Activity, 3) Public Service, and 4) Mentoring on the part of faculty members. It is the highest honor presented by the Board of Regents (BOR) to exemplary faculty members within the USM. The Council of University System Faculty selects awardees and submits them to the Board of Regents for approval.
A special breakfast ceremony for all award recipients will be held on Friday, April 15 at the University of Maryland, University College (UMUC), and recipients will also be recognized during the public session of the full board meeting the same day.
Published April 15, 2016