Innovative material leads to better 3D-printed artificial blood vessels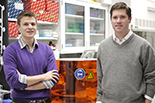 The benefits of 3D printing brought a revolution in medical implants. Bones, eyeballs, even artificial blood vessels can be customized to a patient in need. But even the most tailored artificial blood vessels often have to be removed once new cells and tissues grow. For a growing child with a vascular graft for a heart defect, this could mean many surgeries. Professor of Bioengineering and Associate Chair for Undergraduate Studies in the Fischell Department of Bioengineering, John P. Fisher and 2011 Fischell Fellow Anthony Melchiorri sought to develop a better material for vascular implants. Fisher and Melchiorri's polymer-based material resin meets one of the biggest challenges in 3D printing in the medical field: the need for biodegradable and biocompatible materials that support cell and tissue growth while degrading over time. Its mechanical properties, strength, and elasticity mimic those of actual blood vessels. Because it is also biodegradable, the patient's own tissue replaces it over time, reducing or eliminating the need for further surgeries.
Over the course of the last year, the Division of Research's Office of Technology Commercialization received 154 disclosures of inventions from UMD's world-renowned faculty. Only ten of these inventions have been selected as finalists for the Invention of the Year Award. "It is fantastic to be nominated, particularly because our lab has won [Invention of the Year] before, in 2005," Professor Fisher said. Anthony shares in Professor Fisher's excitement, adding how good it feels to have their work recognized by the wider community: "It's great to see that all this work we're doing in the lab – that, largely, we talk about for hours, we develop for hours and we do the experiments and get all this data and we spend all this time within our own little circle creating, in this case, this polymer resin – people appreciate it and understand the impact of what we're doing outside of our groups." They both remain optimistic about the long term impact of their research and understand the immense value of their contribution. "Our motivation is huge, because cardiovascular disease is the leading cause of death in the United States and in the rest of the world," Melchiorri adds.
"It is fantastic to be nominated..."
Over the month of April, we will be announcing all of the Invention of the Year Finalists... stay tuned for more exciting announcements!
Published April 2, 2014