In memoriam: Dr. Radhakisan Baheti, NSF ECCS Program Director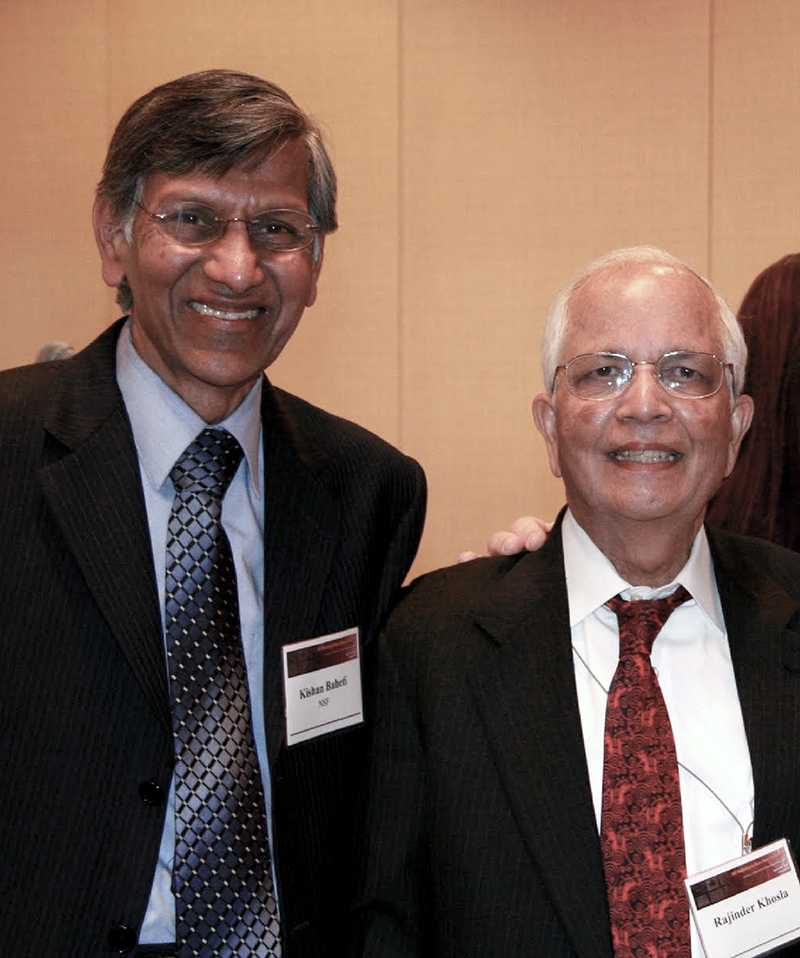 It is with great sadness, but also with a deep sense of gratitude, that we honor the life of Dr. Radhakisan Sohanlal Baheti, a longtime program director in the Electrical, Communications, and Cyber Systems Division of the Engineering Directorate at the National Science Foundation. Dr. Baheti passed away March 9 from the COVID-19 virus.
Kishan, as he was known, was born in Mangrulpir, Maharashtra, India on Feb. 18, 1945 and was the first person from his hometown to seek higher education in the United States. He received a B.S. and M.S. in Electrical Engineering in India from VRCE Nagpur, and from BITS Pilani, respectively. In 1970 he immigrated to the United States and earned an M.S. in Information and Computer Science from the University of Oklahoma, followed by a Ph.D. in Electrical and Computer Engineering from Oregon State University, where he met his wife Padma.
Kishan worked for the Control Engineering Laboratory of GE Corporate Research and Development Center in Schenectady, NY for the first 15 years of his career. In 1989, he joined the National Science Foundation as a program director in what was then the Division of Electrical and Communications Systems. He remained in this position until his untimely passing.
Kishan received the Distinguished Member Award from the IEEE Control Systems Society and was elected an IEEE Fellow in 1997. Through his funding work at NSF, Kishan became an important advocate for electrical engineering and control, robotics, cyber-physical systems, and nanotechnology. He was a positive influence on the careers of researchers in these areas across the country.
Kishan was an avid runner, a yoga practitioner, and an advocate of healthy nutrition. He ran his first Marine Corps Marathon in 1997 at the age of 52, and went on to race in more than 25 marathons, including Boston and New York. At the age of 65, he ran the JFK 50 Mile race. He was active in charitable work, particularly for underprivileged people in his home town of Mangrulpir, India, and its surrounding areas. A strong proponent of the importance of vaccines, Dr. Baheti organized vaccination drives to improve the health of people in his home region. He had received his first dose of COVID vaccine shortly before his passing.
Kishan is survived by his wife Padma; two daughters, Sheela Kathuria and Dr. Aparna Baheti; and son Rajiv. You can read his obituary here.
Remembrances from ISR faculty
"We in ISR, ECE and the Clark School are among those who owe Kishan a debt of gratitude," said ISR Director and Professor Ankur Srivastava (ECE/ISR). "Our faculty were fortunate to benefit from frequent interactions and encouragement from Kishan. A number of us worked with him at NSF on short-term rotations. Kishan was a friend to many, and will be greatly missed. We offer these remembrances of our interactions with him."
Professor and former ISR Director Eyad Abed (ECE)
With the passing of Dr. Kishan Baheti, our community has lost a true friend and a strong and effective supporter. I worked closely with him while serving as a rotator at NSF. I witnessed on a daily basis his devotion not only to supporting quality research, but also to the many individuals whom he touched through his work. Seeing the successes of his grantees was a source of happiness for him. He seemed to derive added motivation with every piece of positive news from his grantees and former grantees. He was proud of his work and of the work of NSF, and rightly so, and he was proud of us, his partners in the path of advancing knowledge. May he rest in peace.
Professor Michael Fu (BMGT/ISR)
I was privileged to have worked with Kishan at NSF during my time there in the Engineering Directorate 2010-2012 and 2015. Among other things, we ran several review panels together for the cyber-physical systems program. Kishan was such a joy to be around, always so enthusiastic and passionate about funding the best researchers in the field. He was a dedicated public servant in the best sense. I will miss his great attitude and good cheer.
Professor and former ISR Director Reza Ghodssi (ECE/ISR)
Kishan was instrumental in encouraging so many of us faculty in academia to strengthen and broaden the scope of our interdisciplinary research and education activities in engineering. His genuine interest in K-12 outreach and the broader impact of our NSF-sponsored projects was always evident by cultivating societal impacts and entrepreneurship. I was privileged to have had the opportunities to interact with him in my roles as faculty and ISR director, especially when in 2012 together we organized the thought-provoking workshop on the future of Micro, Nano, BioSystems. He was indeed a positive and inspiring role model.
Professor Alireza Khaligh (ECE/ISR)
Kishan was a caring friend and a motivated supporter of our research communities. We lost a great advocate who devoted his life to support high-quality research. I am deeply saddened by losing a truly kind colleague.
Professor André Tits (ECE/ISR)
I have known Kishan for about 40 years. He had a golden heart. Frail-looking but solid as a rock; he was an ultra-marathon runner. We used to chat about long-distance running. Very sad.
Professor Nikhil Chopra (ME)
Kishan's loss leaves a void. On hearing of his demise, I was reminiscing about our interactions and recalled his zestful curiosities about new researches, teaching innovations, and new directions of the field. His inspiring leadership, camaraderie, abundant enthusiasm, and mentorship of young researchers will be greatly missed.
Professor Nuno Martins (ECE/ISR)
Every time I met with Kishan, he would always express clearly that students and young researchers—frankly young people in general—were his priority. There was not a single time I spoke with him at a conference that he would not ask to talk to my students. He also was a strong supporter of student activities like the one we hosted at Maryland in 2008, the "4th Northeast Control Workshop." On a personal basis, Kishan was also kind and thoughtful. I already miss him.
Distinguished University Professor and founding ISR Director John Baras (ECE/ISR)
Although Kishan came to NSF after the Systems Research Center (ISR) was created, he quickly appreciated and supported our programs through the years. He often told me how proud he was that we were able to establish an Engineering Research Center with a major focus on systems and control (these were Kishan's own main areas of expertise).
Indeed, Kishan was a special person and friend to all of us.
He was quiet, persistent, wise and effective. He navigated effectively the various "currents" at NSF, and in collaboration with other agencies he always managed to support interesting new directions for the systems and control community.
I have known him since he joined NSF, facilitated by him being "local" to us at UMD. His support and constructive suggestions to ISR continued through the years without interruption. We became very close and often exchanged ideas and possibilities freely on various topics and areas and especially on the needs to change effectively how we should educate the next generations of systems and control engineers. In the last 15 years or so, Kishan was paying particular attention to and placing emphasis on securing funding support to promising young people in our field, for which I am deeply grateful to him. We have shared so many meetings, ideas, panels and exchanges that I know that I will have great difficulty coming to our major conferences and not being able to see him, meet him and have some interesting exchange with him.
We will all miss him a lot. May his memory be eternal.
Published March 24, 2021