Hinman Lecture Available for Download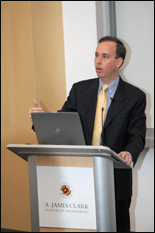 "There's a transformation in how we experience entertainment. We're right at the front end of that."
Alumnus Brian Hinman, B.S. '82 electrical engineering and sponsor of the Hinman CEOs program, delivered the first Whiting-Turner Business and Entrepreneurial lecture of the spring semester on Friday, April 7.
Hinman's lecture was titled "IP Video and the New Age of Entertainment." He gave detailed history of his experiences at three start-ups he helped to found: PictureTel Corporation, Polycom, Inc., and 2Wire.
Published April 10, 2006