Haghani Named Director of CITSM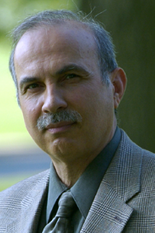 Ali Haghani has been named director of the Center for Integrated Transportation Systems Management (CITSM), replacing Philip Tarnoff who recently retired from the university.
As the chair of the Department of Civil and Environmental Engineering and one of the authors of the original proposal founding CITSM, Haghani has been closely involved with the center from the start. He will work hard to continue the CITSM's tradition of supporting exciting new research into integrated transportation systems management.
Haghani holds a B.S. degree in civil engineering from Shiraz University in Iran and an M.S. and a Ph.D. degree in civil engineering from Northwestern University. Prior to coming to the University of Maryland, he taught as an assistant professor at the University of Pittsburgh and was a post-doctoral fellow and research scientist at Northwestern University. Haghani is an expert in transportation systems analysis, large scale mathematical modeling, traffic management, logistics and emergency response.
Haghani has more than 20 years of experience in research and education as well as vast experience in managing research programs and administrative expertise. He has completed many research projects for several sponsors including the Maryland State Highway Administration, the Maryland Mass Transit Administration, the Federal Highway Administration and I-95 Corridor Coalition.
Some of his most recent completed projects are the evaluation of the cellular probe data for the Baltimore Multimodal Traveler Information System in which he applied statistical analysis techniques to evaluate the quality of traffic data provided by the cellular probes compared with the traffic data collected using the traditional vehicle probes; and development of a methodology for quantifying the cost effectiveness of freeway service patrols. He is currently conducting the evaluation of the real-time travel data provided by Inrix to I-95 Corridor Coalition member states as part of the I-95 Corridor Coalition Vehicle Probe Project. He has served as the chairman of the TRB Committee on Transportation Network Modeling. He is a member of ASCE, the Institute of Transportation Engineers, ITS America, and the Institute for Operations Research and the Management Sciences. Haghani has also served as a member of the Editorial Advisory Board of Transportation Research and is currently associate editor of the Journal of Intelligent Transportation Systems.
Published April 1, 2010