ECE Alumni Co-Author New Book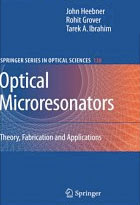 Two ECE alumni have co-authored a book based upon research they began working on as Ph.D. students at the University of Maryland.
Rohit Grover and Tarek Ibrahim, both 2004 Ph.D. graduates in electrical engineering, have collaborated with John Heebner on a new book titled "Optical Microresonators: Theory, Fabrication, and Applications."
The book, published by Springer-Verlag, is the first detailed text on the theory, fabrication, and applications of optical micro-resonators, a new field of research that has gained prominence due to emerging fabrication technologies.
While at Maryland, Grover was advised by Professor Ping-Tong Ho and Ibrahim was advised by Professor Julius Goldhar.
Published February 21, 2008