Desai's Neurosurgical Robotics Technology Featured in NIH Story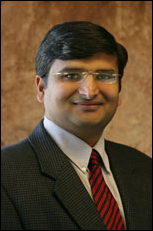 Department of Mechanical Engineering Professor Jaydev Desai was featured in a recent article from the National Institute of Health's (NIH) National Institute of Biomedical Imaging and Bioengineering (NIBIB) for his work in neurosurgical robotics. The story, "Robots Could One Day Help Surgeons Remove Hard to Reach Brain Tumors," highlighted work being done by Desai and Drs. J. Marc Simard and Rao Gullapalli of the University of Maryland School of Medicine in Baltimore (UMB) to create a minimally invasive neurosurgical robot that could be used to remove hard to reach brain tumors.
Over the past four years, the team has designed, constructed and tested their first prototype, a small robotic 'worm' that that has the potential to go into a brain tumor and remove diseased tissue. According to the NIBIB article, "A key component of the team's device is its ability to be used while a patient is undergoing MRI. By replacing normal vision with continuously updated MRI, the surgeon is able to visualize deep-seated tumors and monitor the robot's movement without having to create a large incision in the brain."
However, designing a robot that can operate in the magnetic field an MRI posed another unique challenge. "While robots are often controlled via electromagnetic motors," stated the article, "this was not an option because, besides being magnetic, these motors create significant image distortion, making it impossible for the surgeon to perform the task."
To deal with this issue, Desai, the team's mechanical engineer, decided to use shape memory alloy (SMA)—a material he developed with his team at the University of Maryland's Robotics, Automation, and Medical Systems (RAMS) Laboratory. SMA alters its shape in response to changes in temperature to control the robot's movement.
It may be several years before this new device worms its way into the operating room, but continued support from NIBIB will allow Desai and fellow UMB researchers to continue refining their design and testing the safety and efficacy of the robot.
Read the complete article on NIBIB's website.
For more information on Professor Jaydev Desai and his research visit his faculty page or the Maryland's Robotics, Automation, and Medical Systems (RAMS) Laboratory website.
Published September 9, 2013