Davis Named Distinguished Scholar-Teacher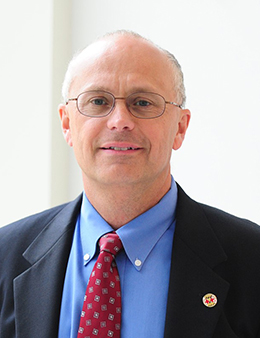 Allen P. Davis, Charles A. Irish Sr. Chair in Civil Engineering at the University of Maryland (UMD) and Associate Chair for Faculty Development and Advancement in the civil and environmental engineering department, has been selected as a 2022-23 Distinguished Scholar-Teacher by the university.
A leading expert on stormwater management and water quality, Professor Davis has been a UMD faculty member since 1989. As a Distinguished Scholar-Teacher, he will receive $5,000 to support instructional and scholarly activities, and will deliver a lecture at UMD on December 8.
Professor Davis's lecture, "Raindrops Keep Falling on my City: The Urban Stormwater Challenge," will be held at 4 pm at the Zupnik Forum (#1101), A James Clark Hall Building, with a reception to follow. A Zoom option will be available for virtual attendees. Register for the event here.
The Distinguished Scholar-Teacher Program honors faculty who have demonstrated outstanding scholarly achievement along with equally remarkable accomplishments as teachers. The program recognizes faculty members who have led the way in scholarship and teaching, who have brought a passion for learning to their colleagues and students, and who serve as models of excellence for faculty at a top research university. Each year, the Associate Provost for Faculty Affairs, D. John Bertot, chooses a panel of former Distinguished Scholar-Teachers to review nominees for the award.
The 2022-23 Distinguished Scholar-Teachers also include Caren Chang (Cell Biology & Molecular Genetics), Kenneth Kiger (Mechanical Engineering), Michelle Girvan (Physics), Rebecca Hann (Robert H. Smith School of Business; Accounting), and Matthew Roesch (Psychology).
Published September 8, 2022