Clark School Sends Students to Aid Katrina Victims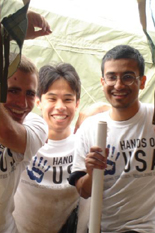 Ten Maryland students, including eight Clark School engineering students and Tau Beta Pi members, visited the Mississippi Gulf Coast over winter break to help
Hands On USA
, a disaster relief organization.
The Clark School helped fund the students' trip to the region.
The duties the students performed included sorting donated materials, gutting houses to be rebuilt and sifting through the debris at a historic mansion in search of lost artifacts.
"It was unbelievable to see how much debris still covers the Biloxi community," the students wrote in their journal. "Katrina hit four months ago, but the neighborhoods are still nothing but abandoned homes, waiting to be demolished or gutted, and streets and yards filled with trash and rubble."
The students slept in tents in temperatures that went down as low as 28 degrees at night.
The students who participated include civil and environmental engineering graduate student Andrew Churchill; electrical and computer engineering undergraduate Amon Ducao; aerospace engineering undergrads Ashley Korzun (organizer), Jamie Meeroff, Sajjad Husain and Dean Bawek; chemical and biomolecular engineering undergrad George Chacko; and Institute for Systems Research graduate student Mark Treadwell.
Published January 25, 2006