Christmas Trees Are Festive, and Potentially Hazardous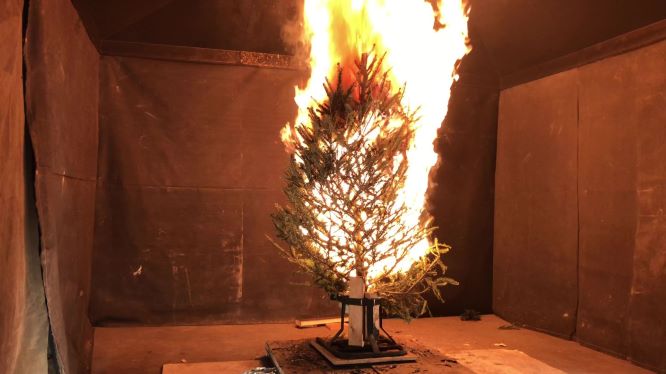 On December 12, UMD's Department of Fire Protection Engineering hosted its 5th annual Christmas Tree Fire Safety demonstration as a means of educating the public about the potential hazards of neglected trees.
UMD Alumni Isaac Leventon ('16), a Fire Research Scientist with the National Institute of Standards and Technology (NIST), and Fernando Montoya ('16), FPE's Lab Coordinator and FireTEC Test Engineer, offered insight into the speed with which dry trees can burn - less than a minute.
Christmas tree fires are four times more deadly than the average house fire due to the speed with which they catch fire and burn. According to the National Fire Protection Association (NFPA), U.S. fire departments respond to an annual average of 210 home structure fires that begin with Christmas trees. These fires cause on average six civilian deaths and roughly $16 million in property damages each year. One out of every 34 reported home Christmas tree fires result in a death, compared to an average of one death per 142 total reported home fires.
The takeaway here - keep your trees well hydrated!
Related media/videos:
Demonstration shows how fast Christmas tree fires can spread if tree not well watered - Fox5 D.C., 12/12/2018
2018 UMD Christmas Tree Burn - UMD FPE, 12/12/2018
Published December 12, 2018