George Dieter Celebrates His 90th Birthday, Applauds Social Change Course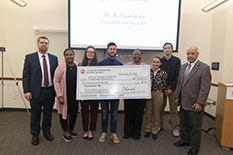 On December 5, 2018, Emeritus Dean and Professor George E. Dieter celebrated his 90th birthday during a ceremony that highlighted the mission and success of the Engineering for Social Change class, which was launched in 2015 by the Center for Engineering Concepts Development within the Department of Mechanical Engineering.
"I'm here to help you recognize this man known as George Dieter," said Darryll Pines, Clark School dean and Farvardin Professor of Engineering. "He is an institution, he is a foundation, he is a legend."
A former president of the American Society for Engineering Education, Dieter served as dean of the engineering school in the early 1980s and published Engineering Design (coauthored with Linda C. Schmidt), which focuses on material selection and understanding and implementing the design process. Pines described the book, now in its fifth edition, as "legendary" and went on to say, "we wouldn't all be here sharing in engineering education if it wasn't for Dean Dieter."
"He's done work at [various] universities related to engineering education. He's been advising me for 10 years on engineering education. He's an institution. We love him dearly. We are grateful for all of his years of service here at the University of Maryland."
Students in the Engineering for Social Change class awarded the African Women's Cancer Awareness Association (AWCAA) $10,000 to support its mission to improve healthcare delivery and services to African women with cancer through education, resources, and training.
"I've been an engineering professional for 55 years and I've never seen an engineering course as noble as Engineering for Social Change," said Dieter. "The requirement for each team to search out some local charity is very worthy, and this organization is very worthy of the award they were given."
The grants for the class are funded through generous support from the Neilom Foundation. So far, the class has given more than $50,000 to local nonprofits. Established by Professor Emeritus Davinder K. Anand to encourage students to consider the social impact of engineering, the course is focused on unintended consequences, both positive and negative, and how engineers can consider them moving forward into their careers.
Students from the class—Eliza Engelsman, Paula Kleyman, Luca Lonardo, and Nathan Samson—worked with AWCAA on a breast cancer prevention project. Based in Greenbelt, Md., AWCAA is working to improve women's health in the Washington D.C. area by involving every institution that serves African women, such as hospitals, clinics, schools, and other health care organizations.
"This award is going to save lives," said Ify Nwabukwu, AWCAA's founder and president. "The impact is that women can come to our office knowing that they will be in an environment with people who will understand them. I'm standing here as a breast cancer survivor myself. On behalf of all of the women we help and the minority community, we say, thank you."
The event also highlighted the recently released book, The True Cost of Waste: Current Issues in Electronic Waste, by Dylan A. Hazelwood, Michael G. Pecht, Maria C. Sanchez, and Davinder K. Anand.
"As electronics have become ubiquitous in our lives, we have failed to appropriately recognize the depth of their unintended consequences, especially the disposition of these items at the end of their useful lives," the authors observe. "The rapid obsolescence of electronic devices as well as their continually lower cost has led to higher turnover and ultimately more waste. Of considerable concern is the relative toxicity of these devices."
Past recipients of the Engineering for Social Change grant include FRESHFARM Markets for their FoodPrints Program, Bread and Water for Africa® to build a community well in Sierra Leone, V-LINC to support their Custom Assistive Technology program, and the Oyster Recovery Partnership to help increase the oyster population in the Chesapeake Bay.
Established in 1998, the Center for Engineering Concepts Development is a platform for experimenting with new ideas in engineering education, future technologies, research and the impact of engineering on society. The center's mission is to undertake activities to benefit the economic welfare of the state of Maryland and the Nation by supporting symposia, special groups, courses and innovative activities of contemporary interest.
The Neilom Foundation is a 501(c)(3) non-profit in the Washington D.C. metro area, established in 2013 in memory of Dilip Anil 'Neil' Anand, with the singular mission of improving the lives of young people through the intersection of education and technology.
Published December 10, 2018