Barbe Wins Olympus Honor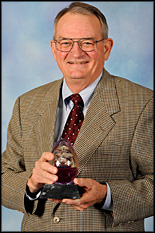 When the University of Maryland wants successful programs to spur technology innovation, it has turned to Dr. David Barbe.
A quiet leader who focuses on results, his programs have led to a $14.4 billion impact on the Maryland economy and a cultural change at the University of Maryland for starting technology companies. His programs have served as models for other universities and initiatives across the country.
Barbe's achievements as executive director of the university's Maryland Technology Enterprise Institute (Mtech) since 1985 were recognized Olympus on Friday, March 21, when he received the 2008 Lifetime of Educational Innovation Award. The award was presented at the 12th Annual Meeting of the National Collegiate Inventors and Innovators Alliance (NCIIA)—Olympus' partner in conducting the Olympus Innovation Awards Program—in Dallas, Texas.
"I am honored to receive this award," said Barbe. "At Mtech we have consistently focused on results and building programs that will drive technology-based entrepreneurship and bring new, successful technologies to the marketplace. I feel privileged that Olympus and the NCIIA have looked at those efforts and are recognizing them today."
More than 20 years ago, Barbe was asked to conceive a new program promoting collaboration between Maryland companies and university faculty. That program, Maryland Industrial Partnerships (MIPS), has resulted in more than 800 research projects conducted between faculty in the university system and Maryland-based companies. Commercial products benefitting from MIPS-supported research include: MedImmune's blockbuster drug Synagis; Hughes Communications' HughesNet; Black & Decker's Bullet Speed Tip Masonry Drill Bit; and Quantum Sail Design Group's entire line off-wind sails.
In 2001, Barbe was charged with creating a culture of technology entrepreneurship at the University of Maryland through the A. James Clark School of Engineering. The idea was to build an infrastructure that enabled faculty and students to start companies based upon university-originating technologies. Coupled with this would be courses and activities to build awareness and excitement for launching high-tech companies.
Barbe has since led the creation of:
Hinman CEOs, the first living-learning entrepreneurship program for undergraduates. An average of 90 undergraduates live together in a dorm designed to foster entrepreneurship. This is coupled with a series of courses, weekly seminar speakers, and an on-site mentor.

The VentureAccelerator Program, which keeps an experienced entrepreneur or venture capitalist on staff to help faculty and students start companies. In just two years, the program helped Affiliate Classroom get to nearly $2 million in revenue per year and helped launch Zymetis, a new company creating cellulosic ethanol from refuse.

The UM $50K Business Plan Competition, now in its eighth year, which rewards faculty students, and recent alumni generating the best ideas for new companies. The competition has supported still-thriving startups such as Chesapeake PERL, Squarespace, MindSay, AnthroTronix and Alertus.

The UM Technology Start-Up Boot Camp, soon to be in its sixth year, a free, one-day workshop on how to start a technology-based company. The event, which served as a model for the NCIIA's national Invention2Venture workshop series, attracts about 600 registrants from as many as 16 universities in the region each year.

Mtech offered seven courses with 12 course sections related to technology entrepreneurship in 2007.

Entrepreneur Office Hours are now featured monthly in each technology-related college on campus. These offer faculty and students the opportunity to speak with someone one-on-one about their ideas for starting new ventures.
Mtech's entrepreneurship programs were cited in both Entrepreneur Magazine and Fortune Small Business Magazine this year, in their annual rankings of university entrepreneurship programs. The University of Maryland rated No. 14 for undergraduate entrepreneur programs and No. 18 for graduate programs in Princeton Review and Entrepreneur Magazine's Top 50 Entrepreneurial Colleges, released in fall 2007. Fortune Small Business Magazine ranks UM as one of the America's Best Colleges for Entrepreneurs (it doesn't provide a numerical ranking).
"David was an excellent candidate and winner for the Lifetime award," said NCIIA executive director Phil Weilerstein. "This award recognizes faculty members who have demonstrated a sustained contribution throughout their careers to stimulating and inspiring innovative thinking in students in their own universities and throughout academia, and David is a great example of this."
The Olympus Innovation Award Program, now in its fourth year, represents Olympus' ongoing commitment to technological innovation and education. The Olympus Innovation Awards Program recognizes individuals who have fostered and demonstrated innovative thinking in education.
Published April 1, 2008