Apple Publishes Artificial Intelligence Paper for the First Time Ever Lead by UMD Alumnus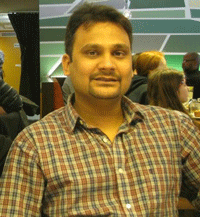 Last month, Apple made an exciting announcement that they would begin publishing AI papers of their own, marking a momentous change in strategy that could accelerate advances in deep learning by allowing its AI engineers to engage openly with others, as noted in a Bloomberg article.
Alumnus Ashish Shrivastava, who was advised during his Ph.D. studies by ECE Department Chair and Minta Martin Professor Rama Chellappa (ECE/UMIACS), is the lead author on the very first published AI paper by Apple on December 22, 2016. The paper describes a technique for how to improve the training of an algorithm's ability to recognize images using computer-generated images rather than real-world images.
In machine learning research, using synthetic images to train neural networks can be more efficient then using real world images due to the fact that synthetic image data is pre-labeled and annotated. However, learning from synthetic images may not achieve preferred performance due to a gap between synthetic and real image distributions. To decrease this gap and improve training with synthetic image data, Shrivastava and his colleagues suggest Simulated+Unsupervised (S+U) learning, where the realism of a simulated image is boosted. The Apple researchers use a modified version of a new machine learning technique called Generative Adversarial Networks, which pits two neural networks against each other and has been used to generate photorealistic images.
Shrivastava's research interests are in Deep Learning, Computer Vision, Machine Learning, Convex Optimization and Signal Processing.
The other Apple researchers listed as co-authors on the paper include Tomas Pfister, Oncel Tuzel, Josh Susskind, Wenda Wang, and Russ Webb.
Published January 5, 2017