An Engineer in the Finance World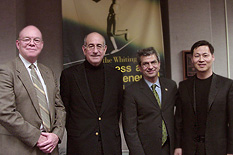 On March 3, Kenneth Brody, EE '64 and co-founder (with Clark School professor and benefactor Jeong H. Kim) of Taconic Capital Advisors LLC, delivered a Whiting-Turner lecture titled "The Highs and Lows of Careers in Finance and Investments."
Taconic Capital Advisors LLC is an investment firm focused on event investing. The firm was co-founded by Mr. Brody, Frank Bosen and fellow Clark School alumnus Jeong H. Kim.
| | |
| --- | --- |
| | "Good judgment regarding human behavior is more important than intelligence in achieving business success." |
|   |   |
For ten years, the Whiting-Turner Contracting Company has generously sponsored The Business and Entrepreneurial Lecture Series to provide the Clark School community with real-life perspectives on issues critical to success in business today. This year's series is titled, "Making the Most of Change and Opportunity."
The next Whiting-Turner Lecture will be April 28 by Robert Corliss, President and CEO of The Athlete's Foot. The lecture will be held in the Judith A. Resnik Lecture Hall, Room 1202, Glenn L. Martin Hall. A reception for Mr. Corliss will be held outside the lecture hall at 4:30 p.m., followed by the lecture and Q&A session at 5:00 p.m.
To learn more about the Whiting-Turner Lecture Series and this year's speakers, visit the Whiting-Turner Lecture Series site.
Published March 7, 2005