Alumnus Laurer, Inventor of the UPC Bar Code, Featured in NY Times Magazine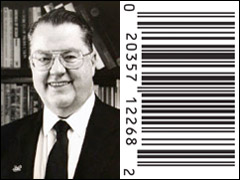 Clark School alumnus and Innovation Hall of Fame inductee George Laurer (B.S., EE, '51) was featured in the New York Times Magazine for his creation of the Universal Product Code (UPC).

The UPC symbol, adopted by a consortium of grocery companies 40 years ago in 1973, was developed by Laurer, who was asked to create a code that could be printed on product labels and read with checkout scanners. Laurer's bar code consisted of a pattern of stripes, which was designed to be readable even if it was poorly printed.

A 36-year veteran of the International Business Machines (IBM) Corporation, George Laurer is the holder of 25 patents. He is also the author of 20 published Technical Disclosure Bulletins. During his career, IBM recognized and rewarded him for many technical innovations. In 1980 he was honored with IBM's Corporate Technical Achievement award for his work on the Universal Product Code proposal that was issued in 1970 by McKinsey & Co. and Uniform Grocery Product Code Council, Inc.

Before joining IBM, he earned the B.S. in electrical engineering from the University of Maryland in 1951. He came to the University after having served in World War II and attending a technical school to learn radio and TV repair. Upon completion of his first year at the technical school, his instructor convinced him that he should not continue that course of study, but that he should go to college.
George Laurer was inducted into the Clark School's Innovation Hall of Fame in 1991.
Published January 11, 2013