Alumni Introduce "Sezmi," New Broadcast TV Network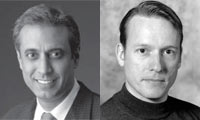 "Sezmi will change the way people watch TV."
Electrical engineering alumni
Phil Wiser
(B.S. '90) and
Buno Pati
(B.S. '86, M.S. '88, Ph.D. '92) have announced the creation of a new broadcast TV network called "
Sezmi
." The new network, set to debut later this year, will deliver TV shows to most large U.S. cities for about half of the monthly cost of cable and satellite television.
Sezmi offers a user-friendly interface that allows customers to browse programs in a variety of different ways, using a remote and box that is roughly the size of a DVD player. Customers will be able to access a wide variety of channels, such as CNN, FX, and even premium channels like HBO, and can also tune into web video from sites like YouTube. Sezmi also incorporates "TiVo"-style on-demand programming. Viewers can access programs based on different content zones that categorize the programs in different ways. Sezmi broadcasts most of its programming wirelessly over the air, as well as providing some shows via existing broadband connections.
"Sezmi will change the way people watch TV," explains Wiser.
Wiser holds a summa cum laude bachelor's degree in electrical engineering from the University of Maryland and a master's degree in electrical engineering from Stanford University. He is co-founder, chairman and president of Sezmi, formerly known as Building B. Prior to this position, Wiser served as chief technology officer of Sony Corporation of America (SCA), where he led SCA's overall digital media business and technology strategy and was responsible for coordinating these efforts across Sony's content and electronics companies. He forged the ground breaking deals with iTunes and pioneered the mobile music space during his tenure at Sony Music. Prior to joining Sony Music, Wiser co-founded Liquid Audio, Inc. and served on its board of directors and as chief technology officer. At Liquid Audio, he created the first commercial internet music distribution platform and led the creation of key technologies that now enable the digital music marketplace. Wiser holds a series of patents in digital music distribution, audio compression and processing and security as a result of these efforts. Wiser serves as a member of the Electrical and Computer Engineering (ECE) Department's Advisory Board at the University of Maryland.
Pati holds a B.S., M.S., and Ph.D in electrical engineering from the University of Maryland, College Park, with a focus on wireless communications and signal processing. He is an experienced entrepreneur with an established track record of building a number of early-stage companies into successful businesses. Pati is co-founder and chief executive officer of Sezmi. Prior to his current position at Sezmi, Pati founded Numerical Technologies and served as its president and chief executive officer, leading the company through its successful initial public offering to its acquisition by Synopsys. Before co-founding Numerical, Dr. Pati served as assistant professor of electrical engineering and computer science at Harvard University and a post-doctoral research associate at Stanford University. Dr. Pati also serves on several boards for the University of Maryland including the Board of Trustees, Board of Visitors for the Clark School of Engineering, and the President's West Coast Advisory Council. He also serves as a co-chair of the Scholarship Endowment Fund campaign.
Wiser and Pati began their friendship on campus in College Park while they both studied electrical engineering at Maryland. A recent news story by Forbes cites the fact that the two met when Pati asked Wiser if he would keep an eye on his dog while he ran into a classroom.
The pair's new technology is attracting a lot of attention in the entertainment technology world in recent days. Read the Forbes article about Sezmi at: http://www.forbes.com/forbes/2008/0519/048b.html.
For more information about Sezmi, visit www.sezmi.com.
Published May 20, 2008