Alumni Honored at Black Engineer Gala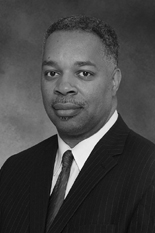 Kevin Greenaugh, Ph.D. '98 nuclear engineering, has been named Black Engineer of the Year for achievement in government. He received the award at the 20th Annual Black Engineer Conference in Baltimore over the weekend.
Greenaugh is a senior manager at the National Nuclear Security Administration (NNSA) in Washington, D.C., where he manages a program in nuclear deterrent research and development.
Greenaugh was the first African-American to receive a Ph.D. in nuclear engineering at the Clark School.
At the same event, Clark School Board of Visitors member Linda Gooden was also named the National Black Engineer of the Year. She is president and CEO of Lockheed Martin Information Technology.
Also, alumnus Rodney Bryant, B.S. '91 and M.S. '93 aerospace engineering, received the Outstanding Technical Contribution in Government Award.
Hosted by US Black Engineer & Information Technology magazine, the Council of Engineering Deans of the Historically Black Colleges and Universities, and Lockheed Martin Corporation, this national event brings together students, college administrators, recruiters, engineering and IT professionals, scientists and high-level decision-makers from the corporate, government and academic communities in an effort to broaden diversity in America's technical and scientific work forces.
Published February 20, 2006