Aerospace Board Member Austin Joins NAE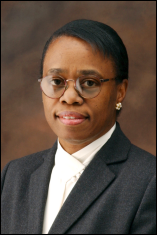 Wanda M. Austin, a member of the aerospace engineering department's Advisory Board, and also president and CEO of the Aerospace Corporation, has been named as a National Academy of Engineering member for her contributions and leadership in the national intelligence community.
Austin has received numerous awards and citations. Among them are the Air Force Scroll of Achievement, the National Reconnaissance Office Gold Medal, the U.S. Air Force Meritorious Civilian Service Medal, the Air Force Space and Missile Systems Center's Martin Luther King Spirit of the Dream Award, the Society of Women Engineers Upward Mobility Award and the Women in Aerospace Outstanding Achievement Award.
Austin earned a Bachelor of Arts degree in mathematics from Franklin and Marshall College, Masters of Science degrees in both mathematics and systems engineering from the University of Pittsburgh and a Ph.D. in systems engineering from the University of Southern California. She is a member of the NASA Advisory Council and is a fellow of the American Institute of Aeronautics and Astronautics.
More information available at the NAE web site:
http://www8.nationalacademies.org/onpinews/newsitem.aspx?RecordID=02082008
Published February 11, 2008