University of Maryland To Host Annual Christmas Tree Fire Safety Demonstration
Media event hosted by Fire Protection Engineering at Maryland shows effects of underwatered trees while supporting research.
MEDIA ADVISORY December 7, 2022
CONTACT:
Jennifer Rooks
301 405 1458
jfrooks@umd.edu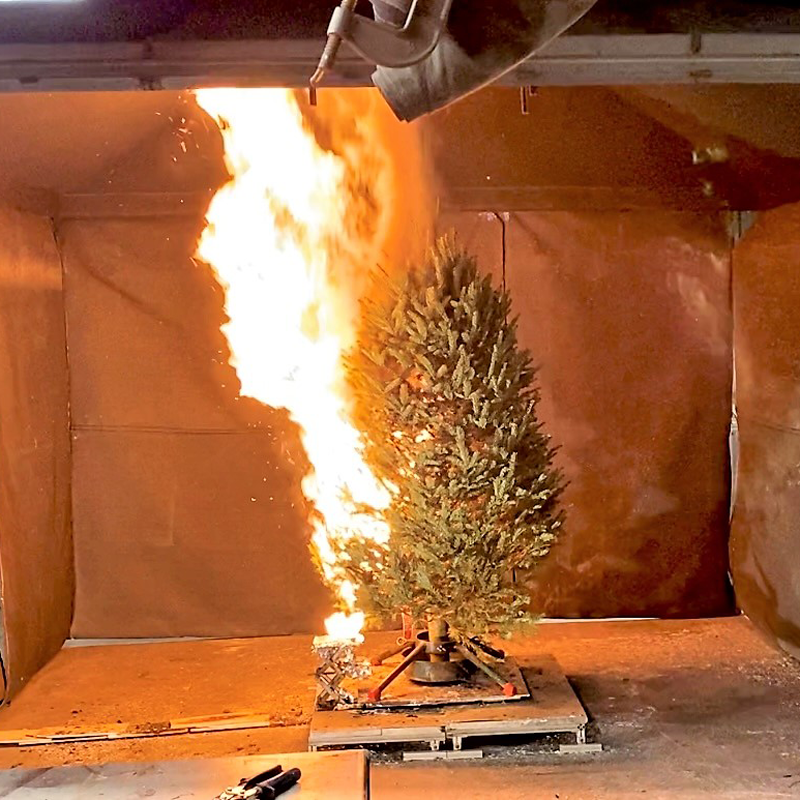 COLLEGE PARK, Md. – The Department of Fire Protection Engineering (FPE) at the University of Maryland (UMD) A. James Clark School of Engineering will host its Annual Christmas Tree Fire Safety Demonstration on Tuesday, December 13, 2022 at 9:00 A.M.
WHY: According to National Fire Protection Association (NFPA) statistics, between 2016 and 2020, fire departments in the United States responded to an average of 160 home structure fires each year that began with Christmas trees.
According to the American Christmas Tree Association, Christmas trees were in nearly 94 million homes across the country in 2020, and the NFPA notes that natural trees have been involved in nearly twice as many fires as artificial trees, so it's important to make sure that trees in homes are well-watered and kept according to NFPA's holiday safety guidelines.
While tree-related fires occur less commonly than other residential home-structure fires, they are particularly hazardous, in part, due to their extremely fast growth and often result in higher average death rates. Tree-related fires have caused an annual average of two civilian deaths, 11 civilian injuries, and $12 million in direct property damage.
WHAT: This dynamic demonstration shows the importance of maintaining a well-watered Christmas tree, the potential fire danger of even artificial trees, and highlights the safety practices that are important for both types of Christmas trees.
The event will consist of a series of live fire experiments on both natural (Balsam Firs) and artificial trees to show the burning behavior of typical Christmas tree fires. These experiments will demonstrate the impact of moisture content (i.e., keeping your tree well-watered) on ignition, fire growth rate, and peak fire size of approximately six-foot tall trees.
WHO: The experiments are sponsored by UMD's FPE Department and conducted by Dr. Isaac Leventon, a Researcher with the Fire Research Division at the National Institute of Standards and Technology (NIST) and a UMD alumnus and Adjunct Lecturer with the FPE Department.
WHEN: Tuesday, December 13, 2022 at 9:00 A.M.
Registration is required: https://go.umd.edu/fpe2022burn.
WHERE: FPE Koffel Associates Fire Standards Lab, 3229 J.M. Patterson Building, 4356 Stadium Drive (at the corner of Stadium Dr. and Regents Drive), University of Maryland, College Park, MD 20742. See map here.
*Visitor parking is available on the top level of the Regents Drive garage and in the Xfinity parking lot (validation codes available).
Please follow this link for additional parking details: https://transportation.umd.edu/parking. Follow this link to an interactive campus map: https://maps.umd.edu/map/
More Information:
For additional information on this event, please visit: https://fpe.umd.edu/events/christmas-fire-safety-demo
About the A. James Clark School of Engineering
The University of Maryland's A. James Clark School of Engineering is a premier program, ranked among the top 20 in the world. Located just a few miles from Washington, D.C., the Clark School is at the center of a constellation of high-tech companies and federal laboratories, offering students and faculty access to unique professional opportunities.
Our broad spectrum of academic programs, including the world's only accredited undergraduate fire protection engineering program, is complemented by a vibrant entrepreneurial ecosystem, early hands-on educational experiences, and participation in national and international competitions.
The Clark School is leading research advancements in aerospace, bioengineering, robotics, nanotechnology, disaster resilience, energy and sustainability, and cybersecurity. From the universal product code to satellite radio, SMS text messaging to the implantable insulin pump, our students, faculty, and alumni are engineering life-changing innovations for millions. Learn more at www.eng.umd.edu.