Vishkin Receives Innovator of the Year Award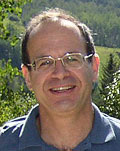 Professor
Uzi Vishkin
(
ECE
/
UMIACS
) was honored by the
Maryland Daily Record
with an
Innovator of the Year Award
at a reception in Baltimore on October 10 for his recent advances in parallel computing technology. Vishkin has received international attention for the desktop supercomputing prototype he created, which is capable of speeds 100 times faster than current desktops, representing a paradigm for the next generation of computers.
Vishkin's technology is based on parallel processing on a single chip, which allows the computer to perform many tasks simultaneously. More information on Vishkin's technology is available at: http://www.ece.umd.edu/News/news_story.php?id=2289.
The Innovator of the Year awards program seeks out and recognizes Maryland residents and companies who have introduced innovations that have had a positive effect on their business, industry or community. Vishkin was one of 24 individuals and organizations to be recognized. The award is sponsored by the Maryland Department of Business and Economic Development (DBED). For more information about the Innovator of the Year Award, visit the Daily Record website.
Also see:
Vishkin Innovator of the Year Profile
Published October 12, 2007