UMD Steel Bridge Team Reaches National Competition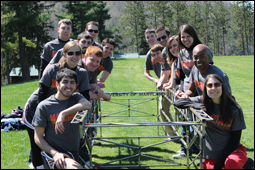 The Department of Civil and Environmental Engineering's Steel Bridge Team took third place at the 2013 ASCE Mid-Atlantic Student Conference held at the University of Pittsburgh, Johnstown from April 20-21, qualifying them for the 2013 National Student Steel Bridge Competition held in Seattle at the University of Washington from May 31st to June 1st.

Sponsored by the American Institute of Steel Construction and the American Society of Civil Engineers (ASCE), the Steel Bridge competition challenges engineering students to solve real-world engineering issues such as spatial constraints, serviceability, safety and cost. The competition provides a forum for students to create innovative projects that address these topics.

Competitors design and build an approximately 20-foot span bridge from pieces that can measure no more than 30"x 6"x 4". The bridges are tested to hold up to 2,500 pounds of vertical load with minimal bowing and swaying, all while maintaining safety considerations. The speed at which the bridges are built, along with their strength, are calculated into construction and structural efficiency costs, the lowest of which wins the competition.

The University of Maryland team was started in 2010 with only a few members. It has since grown to include 14 members and is led by faculty advisor Peter Chang. The team's original bridge design featured a single rail space truss with an under truss bracing system that demonstrated great structural support and allowed for minimal pieces to be used. It took 20 minutes to build this design at regionals with a resulting cost of 6 million dollars, earning their third place finish. The team made adjustments for the national competition, completing construction in 10 minutes with a cost under 3 million dollars. These improvements resulted in their placement of 26 out of the 49 teams in attendance and first place for their region.

With their sights set on the 2014 competition season, the UMD Steel Bridge Team is seeking new members for the fall to join their efforts in the quest for regional and national victories. The team will begin joint and structure design as well as prototype testing during the fall semester. Next spring, they will move to fabrication, build time practice and load testing as they approach the regional and national competitions.

For more information on UMD's Steel Bridge Team, check out the team's website and Twitter.


Published July 9, 2013