Students Construct Water System for Burkina Faso Health Clinic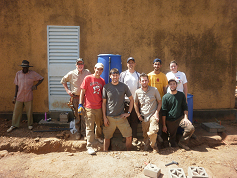 Last month, a team from the Clark School chapter of Engineers Without Borders returned to Dissin, Burkina Faso, to implement a solar-powered water supply and sanitation system for a rural health clinic. The Done health clinic serves a community of 8,000 and performs 250 births a year, previously without any electricity or running water.
The team installed two pumps and a system of tanks that pump water from the clinic's well, clean the water with a slow-sand filter, and pump the clean water to a distribution tank on the roof of the clinic. The pumps are powered by batteries, which also provide lights at night and are charged by solar panels.
The travel team was made up of four undergraduates: Project Leader Matt Conway (ChBE '12), Steve Emling (ME '13), George Kinchen (EE '14) and Mian Khalid (BioE '14); two masters students: Anne Lederer (ME '12) and Luke Hansen (Sustainability Engineering '11); Faculty Mentor Charles Schwartz (CEE) and Ed Miller, a professional engineer from Constellation Energy.
During the three-semester design phase, the team focused on limiting the number of components to simplify the use of the system. During construction, the focus was on the maintainability of the system, which was achieved mostly through extensive education and training of the clinic staff and others in the community who helped to build the system. The chapter now plans to take an in-depth look at its four previous projects in Burkina Faso with a monitoring trip this summer.
Published February 10, 2012