Space Systems Lab Awarded NASA Contract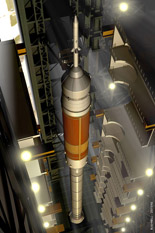 The Clark School is the only university program in the country to be selected for NASA's Constellation Program to develop ideas for how astronauts will live and work on the moon. The Clark School's Space Systems Lab (SSL) and 11 companies will work independently to develop concepts for the program.
The SSL will be working on a "minimum habitat" - the functions that a lunar habitat absolutely has to provide, said Dave Akin, professor of aerospace engineering and head of the SSL.
"All of the similar work we've done down through the years with class projects in the senior Spacecraft Design course is directly applicable to this effort," Akin said.
Each organization will conduct a 180-day study focused on a topic relevant to lunar surface systems.
"These studies provide new ideas to help the Constellation Program develop innovative, reliable requirements for the systems that will be used when outposts are established on the moon," said Jeff Hanley, the Constellation Program manager at NASA's Johnson Space Center in Houston. The recommendations from the studies will help determine packaging options, identify basic functions for lunar habitats, and conceptualize innovative avionics, computer software, energy storage ideas and equipment and techniques that could help preparation for the lunar outpost site.
The Constellation Program is building NASA's next generation fleet of spacecraft -- including the Ares I and Ares V rockets, the Orion crew capsule, the Altair lunar lander and lunar surface systems -- to send humans beyond low Earth orbit and back to the moon. NASA plans to establish a human outpost on the moon through a successive series of lunar missions beginning in 2020. Lunar surface systems may include habitats, pressurized and un-pressurized rovers, communication and navigation elements, electrical power control, and natural resource use.
For more information about NASA's Constellation Program, visit:
http://www.nasa.gov/constellation
[Information for this article obtained from SpaceRef.com]
Published July 30, 2008