Schwartz Appointed Chair of Department of Civil and Environmental Engineering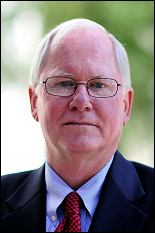 Professor Charles W. Schwartz has been selected as the next chair of the Clark School's Department of Civil and Environmental Engineering. Schwartz will begin his new position on January 6, 2014, when current chair Dr. Ali Haghani steps down from the role.
Schwartz received his B.S., M.S., and Ph.D. degrees in Civil Engineering from MIT. An international leader in the field of pavement engineering, he has published extensively in the areas of pavement analysis and design, viscoelastic-viscoplastic constitutive modeling, and pavement material characterization and testing. Schwartz has led major research projects sponsored by the National Academies, the Federal Highway Administration, and other infrastructure agencies. He is an Associate Editor for the International Journal of Pavement Engineering and serves on several other journal editorial boards. Schwartz currently chairs national pavement-related committees for the Transportation Research Board of the National Academies and for the American Society of Civil Engineers. He also teaches undergraduate and graduate courses that span the areas of numerical analysis, pavement design and analysis, advanced soil mechanics, computational geomechanics (including pavement mechanics), and civil infrastructure systems.
"I am delighted to have Dr. Schwartz in this new role," said Clark School Dean and Farvardin Professor Darryll Pines. "Under Dr. Haghani's leadership, the department's research and education activities have grown each year. I look forward to Dr. Schwartz leading the department to even greater national and international prominence."
Learn more about the Department of Civil and Environmental Engineering.
Published December 19, 2013