Tavis Smiley and UMD Announce Seven Finalists for $75K Social Innovation Challenge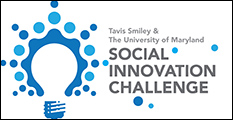 Broadcaster Tavis Smiley and the University of Maryland have announced seven finalists for the $75,000 TS/UM Social Innovation Challenge.
Announced last summer, the TS/UM Social Innovation Challenge invited aspiring entrepreneurs to develop transformative solutions to affect positive change for individuals and communities across the nation. Entrants were asked to submit innovative ideas targeting the key impact areas of education, hunger, and sustainability. A total of 56 entries were submitted, representing 23 states across the nation, as well as the District of Columbia. The seven finalists were selected based on the executive summaries and videos the entrants created to describe their social innovations.
The TS/UM Social Innovation Challenge finalists are:
Kamilla Kovacs, BUILD Metro DC (Washington, DC)
BUILD is a targeted four-year entrepreneurship and college readiness program for students that are socio-economically most disadvantaged and academically most disengaged.

Christopher Emdin, Urban Science Education Center (New York, NY)


The Urban Science Education Center targets the challenges of teaching and learning in urban schools, and the need to reduce drop out rates of urban youth, enhance learning outcomes in science, and develop a scientifically literate populace among urban youth.

Derrius Quarles, Million Dollar Scholar (Chicago, IL)


Million Dollar Scholar (MDS) is an education technology and services solution that

creates scholarships for deserving students by offering an instructive web platform that educates high school and college students on how to be successful in the scholarship and grant processes for higher education.

Alexander Moore, DC Central Kitchen (Washington, DC)
DC Central Kitchen provides 5,000 meals to DC's shelters and nonprofits each day and offers culinary training to jobless, at-risk adults. Its latest endeavor is called Healthy Corners, a response to the crises of 'food deserts' and inequitable access to healthy food of its kind in America.
Arthur Morgan, Gather Baltimore (Baltimore, MD)
Gather Baltimore's mission is to reduce food insecurities in neighborhoods consumed by poverty by delivering 50,000 pounds of healthy food each week to neighborhood farm stands, local meal programs, and other community based food distribution groups.
Imani Christian Henry, 100 Men Reading (Wilmington, DE)
100 Men Reading prepares and motivates children to read by organizing events, mentoring through literacy and by delivering free new books and literacy resources to children and families who need them most.
Atin Mittra, MADE Microfinance (College Park, MD)
MADE Microfinance's goal is to reduce the dropout rate of underrepresented populations and improve learning outcomes, and to provide Maryland residents with both the financial tools to build assets and improve their credit and the financial literacy to effectively use the financial system to their advantage.
Each of the seven finalists will have the opportunity to interview with a panel of judges before final selections are made to identify the three winning teams. The winners will be announced on the Tavis Smiley Network in January 2014. Each of the three winners will be awarded a $25,000 prize. Additionally, each winning entrant will have an opportunity to be a guest on the Tavis Smiley Network, receive an entrepreneur mentorship at the Clark School's Maryland Technology Enterprise Institute (Mtech), and showcase their innovation at Platform Summit 2014, an event aimed at exploring the role of diversity in the innovation economy.
The TS/UM Social Innovation Challenge supports the Tavis Smiley Foundation's initiative to dramatically reduce poverty in America and the University of Maryland's commitment to increase the number and quality of new businesses inspired by competition to create a large and strong new generation of entrepreneurs who benefit society. For more information about the TS/UM Social Innovation Challenge, visit www.tavissmileysocialinnovator.com.
Published December 19, 2013