Rewiring the Student Network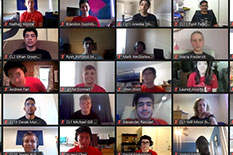 As faculty and administrators shifted curriculum online due to the COVID-19 pandemic, the Clark School discovered new ways for students to benefit from collaboration in class, engage with the university community, and build relationships with their peers.
Engineering "Fun"damentals
As one of the first engineering courses taken by all incoming Clark School freshmen, ENES100 is more than an introduction to core engineering concepts; it teaches students how to work together as a team. But how do you replicate the community and collaboration cultivated with team-based projects when everyone is apart?
"This course builds stronger relationships between students—and between students and instructors—more so than the typical course taken in the undergraduate curriculum," says Keystone Senior Lecturer Jackelyn Lopez Roshwalb. "We had an incredible challenge replicating organic interactions in an online forum but knew it was paramount to having productive team experiences."
To cultivate the trust and camaraderie instrumental to any good team, the 30-person ENES100 teaching team integrated intentional community-building exercises into the course at every step. To help break the ice, the instructors, under the creative direction of Keystone Lecturer Michael Galczynski, produced a series of engaging video shorts that offer heavy doses of pop culture and humor while introducing students to their ENES instructional team and curriculum. Novel uses of technologies like Discord, a chat app popular with gamers, create a forum for organic communication, crowdsourcing, and connecting. Because it can maintain ongoing text conversations as well as facilitate voice and video chats, Lopez Roshwalb says, Discord can digitally replicate the conversations that take place when faculty and students are together.
But the biggest curriculum shift might be the migration from a one-project course format to a series of smaller engineering design exercises, which offer students a chance to reflect and learn from multiple team experiences, says Lopez Roshwalb. The first three course modules provide more structured, instructor-led experiences; supports and scaffolding are gradually removed as the semester progresses. Teams go solo on a final six-week project, applying both the hard engineering skills and the interpersonal and problem-solving skills they've learned along the way.
"The teaching innovation grant gave us the opportunity to pursue new approaches that we hadn't been able to try before," says Lopez Roshwalb. "Our hope is that the skills they gain this semester will set them up for success for their entire career at Maryland."
Peer Professors
Faculty Specialist Fernando Raffan-Montoya (Ph.D. '16 aerospace engineering) teaches ENFP300 and ENFP312, mandatory introductory courses in fluid mechanics for fire protection engineering undergraduates that are intensive and math-heavy. Historically relying on "chalk talk," the courses are also typically the first that transfer students to the Department of Fire Protection Engineering take when arriving at Maryland. But how do you adapt to an online lecture format in a meaningful way? One of the answers was demonstrations—but not by Raffan-Montoya. Instead, he enlisted current undergraduate upperclassmen to lead the way.
"Demonstrations can help students translate fundamental and sometimes abstract concepts discussed during the lecture," says Raffan-Montoya. "And if they see them being performed by a classmate, someone they know, it can give them the confidence to know they could master the concept, too."
And while students need engagement, they also crave familiarity, Raffan-Montoya learned. He digitized his chalk talks with the help of an iPad, allowing students to watch and listen as he shares his notes, diagrams, and sketches in real time. For future iterations of the course, Raffan-Montoya plans to enlist a professional storyteller to give new life to some of the concepts covered in class.
"Depending on your personality this stuff can be a little dry, even though you need to know it," he says. "But if you can find ways to make it more engaging, like telling a good story or mixing up the delivery method without losing the rigor, it's a win. It's just an opportunity to make the course better."
Finding Community When We're Apart
For many new students, lasting college friendships are made in the early frenzied days of orientation. But what happens when the spaces to meet aren't safe? That was the challenge facing the legion of Clark School staff who welcome new students each year with programs like ClarkLEAD, a community-building event geared toward creating a united, thoughtful, safe, and inclusive school culture. As the committee worked on a plan to welcome students virtually this year, it was obvious that something was missing.
"We knew that new students were going to struggle to make connections, make friends, and feel like they are part of the larger Clark School community," says Brian Dillehay, assistant director of the Office of Global Engineering Leadership. "They're online, and many of them are at home. We began to think of the best way to reach out to those students and the best way to bring them together."
To bridge the distance for new students, the committee decided to make their world a little smaller. When new students logged into their Terpmail accounts in August, they found a welcome email introducing them to their inaugural "Clark Community"—a cohort of six-to-eight new students that they would meet with weekly for the first semester of their college experience. Led by over 180 sophomore, junior, and senior volunteers called "Clark Leaders," the cohorts virtually meet, chat, and bond over themed topics, usually kicked off with an interesting article, podcast, or TED Talk. Themes are sometimes anchored to skills, like working collaboratively, or events, like the First Look Fair. But mainly, they serve as an opportunity to make friends, commiserate over course loads, and feel part of something bigger.
"The obstacles of the new student experience this year go beyond the typical first-year challenges, but they have a large community here eager to support them," says Associate Dean for Undergraduate Programs Kenneth Kiger. "We want students to know they have a home here at the Clark School."
ClarkCOMMUNITY, a new cohort-based program to connect incoming students, joins a comprehensive fall orientation slate that includes ClarkLEAD, a community-building event; a kick-off event called ClarkWELCOME; and the Engineering First Look Fair, where students can learn more about clubs and social events.
Published September 1, 2020