"Space" to Learn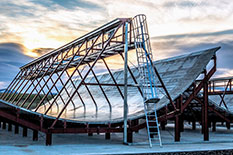 Calculating a satellite's orbit in space is a complex business—but according to Senior Lecturer of Aerospace Engineering Liam Healy, learning about it doesn't have to be. The extensive mathematics undertaken by students in ENAE441: Space Navigation and Guidance have historically required comprehensive software packages or, more commonly, tasked students to write time-consuming code.
"Students need to understand the basic concepts of how navigation is being calculated, but they don't need to suffer the pain of putting it together," says Healy, who wrote a cloud-based computing application for the Fall 2020 semester that completes the more complex computation for students, while still engaging them in the key mathematical principles. "The stuff that I'm trying to eliminate is the stuff that's not popular in the class—but more importantly, it's not the point of the class. This refocuses students' efforts."
It also carves out more time for students to put what they've learned into practice, computing the orbits of real satellites. In years past, students have gone to UMD's Astronomy Observatory to collect this satellite data (a non-starter during a pandemic). And while simulated data works in practice, it lacks the rigor and complexity of real-world satellite data. Healy explains that dealing with a measurement uncertainty and understanding its implications is the type of real-world practice students need. He also understands that the thrill of peering into a telescope and seeing a roving satellite is what they want. So, in addition to securing real satellite data from a private company, he obtained still images of the actual satellites they were studying.
"There's something quite visceral of looking through a telescope and seeing a satellite," says Healy. "It's nice to have that connection, and I wanted to deliver that."
Published August 28, 2020