Gabriel Wins White Fellowship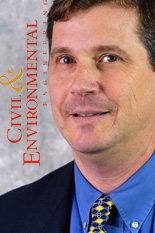 Steven A. Gabriel, associate professor of civil and environmental engineering, won the prestigious Gilbert F. White Fellowship from "Resources for the Future" for the academic year 2007-2008.
"Resources for the Future" is an internationally-renowned, independent institute headquartered in Washington, DC. It is dedicated entirely to the analysis of environmental, energy and natural resource issues.
Gabriel will spend a large portion of his sabbatical year at RFF analyzing global natural gas markets as well as convergence and modeling issues in large-scale, energy-environmental models.
Published August 24, 2007