Fourney to Head Undergraduate Retention Office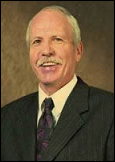 William Fourney, a past chair of the aerospace department and current associate dean of the Clark School, has been appointed to lead the newly formed Office of Undergraduate Student Retention, Graduation and Career Placement
Dean Darryll Pines asked Fourney to continue his outstanding service by leading this new office. Units that will report to Fourney include:
Keystone, which ensures that some of our most talented professors teach our most fundamental courses, to improve education and retention.

The Co-op and Career Services Office, which helps students find internships, co-op experiences and full employment.

Undergraduate Advising, which assists students in course and major selection and helps them achieve academic success.

Engineers Without Borders, which sends teams of students to other countries to assist local citizens in developing sustainable water, energy and waste systems for their own use.
Fourney will transition his responsibilities as director of facilities to Prof. Marino di Marzo, chair of the Department of Fire Protection Engineering. This transition will take approximately one year. di Marzo will then assume all the responsibilities as director of facilities as he continues in his role as department chair.
Published September 29, 2009