ChBE Alumna Encourages Clark School Grads to Set Sail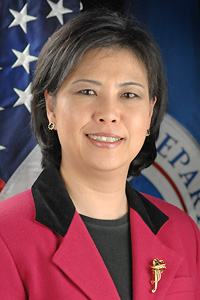 The A. James Clark School of Engineering was honored to welcome Anh Duong (B.S. '82, chemical engineering), director of the Borders and Maritime Security Division in the Department of Homeland Security's Science and Technology Directorate, as its winter 2010 commencement speaker.
Duong focuses on the technical aspects of U.S. sea, land and air borders and cargo security challenges. From 2005 to 2008, she served as science advisor to the deputy chief of naval operations for information, plans and strategy, and to the director of the Naval Criminal Investigative Service. In that role, she directed many successful efforts to transform science and technology into anti-terrorism tools. One of her notable projects was the rapid creation of mobile, modular forensic labs to help U.S. forces in Iraq and Afghanistan identify terrorists, which earned her the Superior Civilian Service Medal from the U.S. Navy. Before joining Department of Homeland Security, she spent 25 years working in naval science and technology and is a recognized expert in explosives.
Duong's talents and leadership have been highlighted in publications including the Washington Post, the Wall Street Journal, and the Baltimore Sun, as well as on national and international radio and television networks. A feature story about her remarkable journey from a refugee of the Vietnam War to a defender of her adopted country was published in Newsweek in 2007. In 2009, she received the Clark School's 2009 Distinguished Engineering Alumna Award.
In her speech, Duong offered the new graduates advice she hoped would help and inspire them as they "sail into the new world" of their careers and their futures.
"The good news is you've already acquired one of the best toolkits out there—an engineering degree from Maryland," she told the graduates. But what, she asked, would help them stand out immediately from their peers as they go into the workforce?
Duong outlined the five qualities that she as an executive looks for among members of her staff to gage their potential for increased responsibility and promotion: the quality of their work, a professional personal appearance, communications skills, emotional intelligence, and ethics.
She urged the new graduates not to become frustrated with the tasks they are likely to be assigned at first. "Be patient," she advised. "It's a mistake to think that a trivial task is a task not worth doing well. Because if you do not demonstrate that you are willing and able to carry out a small job well, then your boss might be reluctant to trust you with something more substantial."
She stressed the danger of underestimating the importance of being a strong speaker and writer. "[A] poor communicator often is often automatically cast aside as a poor performer," she warned. "In my career, I have seen so many outstanding scientists and engineers bypassed by others who were less technically competent but who were great communicators, especially in their oral presentation skills, when it [came] to promotion [and] selection for leadership positions."
Emotional intelligence, which she described as "the ability to perceive, assess, and positively influence one's own as well as others' emotions in order to motivate and lead," is perhaps the hardest skill to acquire, but among the most crucial for a leader to possess as he or she increasingly comes to depend on the efforts of his or her team to achieve success.
Finally, Duong encouraged the graduates build motivation and resilience. "Failure is a label that we tend to give to any disappointing outcome, like not getting a result that we want [or] not getting a job that we desire," she said, "But true failures only happen when we learn nothing to help us better prepare for the next opportunity. And there will always be a next opportunity, I promise you, if you are resilient enough to hang on to your dreams."
Published December 20, 2010