Behind the Scenes: Erin Wessell Wrangles Clark School's Maryland Day Activities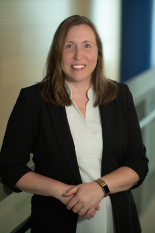 Erin Wessell has been a member of the A. James Clark School of Engineering's staff for four years, serving as the Director of Recruitment and Outreach. Within this role, she and her team are responsible for organizing admission and recruitment efforts for engineering undergraduate prospects, overseeing and awarding Clark School scholarships, and coordinating all Clark School involvement with Maryland Day.
With a helping hand from Clark School teammates Aishah Briscoe, Program Manager for Recruitment and Outreach Programs, and Jason Goldman, Program Coordinator for Recruitment, Wessell manages all Maryland Day planning and activities for the Clark School, from asking for volunteers to ordering tents and supplies to ensuring everything is set up and ready to go for the day-long event. However, even with her team's help, she recognizes that pulling off an event as big as Maryland Day takes more than just their efforts.
"Maryland Day would not be possible without help from colleagues for logistical arrangements and the volunteers that do everything from working tables to directing traffic," said Wessell. "When I walk around the Clark School events on Maryland Day and see how busy each table is, I'm reminded that this event requires so many helping hands beyond me and my team."
Planning for Maryland Day begins mid-January when a call for event proposals goes out to the Clark School community. From there, Wessell's team follows up with surveys and communications about setup and location needs for each activity proposal. Amid these communications, Wessell regularly attends university-wide Maryland Day committee meetings to stay current on any requirements or changes. Once proposal follow-up responses are captured, she and her team can begin planning the event locations and ordering any necessary signs or supplies.
On top of the general task of planning such a large community outreach event, this year posted a unique challenge for space due to construction across campus. Despite some difficulties, Wessell was happy with how things worked out.
"I'm so glad we found adequate space for each event. I know space will continue to be a challenge, so we may look for some new location possibilities in the future," she said.
This year the Clark School hosted 67 different events. Some of the most popular events included Terps Racing, the Neutral Buoyancy Research Facility, the Fire Tornado, building bridges with LEGOs, and making slime.
Maryland Day is the University of Maryland's largest community outreach event, where alumni, friends, family and neighbors are invited to campus to get a glimpse into the exciting things happening across the university. This year marked the 25th Anniversary of the event.
As she looks on to future Maryland Days, Wessell hopes the college's presence will continue to generate interest. "We hope that Clark School activities at Maryland Day will only grow in number, creativity, and excitement for years to come!"
Published May 24, 2023