A Fearless Flight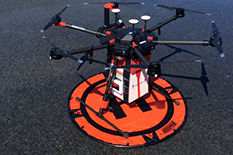 On November 6, 2018, the report, "An Initial Investigation of Unmanned Aircraft Systems (UAS) and Real-Time Organ Status Measurement for Transporting Human Organs," was published in the IEEE Journal of Translational Engineering in Health and Medicine.
The authors— Stephen T. Bartlett (UMD Medical System, Baltimore); Gil Blankenship (Maryland Development Corporation, Baltimore); Joseph R. Scalea (Assistant Professor, UMD School of Medicine); Matthew Scassero (Unmanned Aircraft Systems Test Site Director, UMD); and Norman Wereley (Minta Martin Professor and Chair of Aerospace Engineering, UMD)—recognize that "if organs could be moved by drone, instead of ill-timed commercial aircraft or expensive charter flights, lifesaving organs could be transplanted more quickly."
The report goes on to describe how a modified, six-rotor unmanned aircraft system was used to model situations relevant to organ transportation. The tests, which included 14 drone missions and a flight that covered 3 miles, revealed that a kidney could travel safely without damage on a drone. "Organ transportation may be an ideal use-case for drones," the authors point out. "With the development of faster, larger drones, long-distance drone organ shipment may result in substantially reduced cold ischemia times, subsequently improved organ quality, and thousands of lives saved."
Recent media coverage of the UAS organ transportation investigation is included below:
Associated Press video interview: Are drones the next big thing in organ donation?
IEEE Spectrum: Maryland Test Confirms Drones Can Safely Deliver Human Organs
Digital Trends: Drones can safely fly a human kidney without damaging it, study shows
We Talk UAV: Need a new organ? Perhaps a drone will deliver one for you…
Aircraft Owners and Pilots Association: A Precious Payload
Teslarati: Drone successfully flies human organ transplant between hospitals
Techcrunch.com: First ever drone-delivered kidney is no worse for wear
Tech50plus.com: Transplant Organ Delivery By Drone
Dronebelow.com: Kidney Flown Thousands of Meters by Drone Successfully
Published November 30, 2018