Thomas Murphy Honored for Communications Research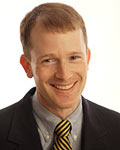 The winner of the inaugural Clark School Junior Faculty Outstanding Research Award is Associate Professor Thomas Murphy (electrical and computer engineering and Institute for Research in Electronics and Applied Physics).
The Clark School Junior Faculty Outstanding Research Award is an annual honor whose purpose is to celebrate and inspire exceptionally strong and influential research by faculty members at the assistant or associate professor rank. The recipient's work should promise significant and lasting impact in his or her research discipline.
Murphy has demonstrated that the use of nonlinear optical effects can lead to significant improvements in ultra-high-speed optical communications systems; introduced novel techniques to modulate and demodulate microwave signals on to an optical carrier to reduce nonlinear distortions; explored new methods to use arrays of interconnected lasers for image processing or motion sensing; and investigated the use of nanoporous semiconductors. He has established a strong record of competitive funding and high quality publications, is an active advisor of graduate students and serves as a member of a number of professional and campus organizations.
A group of judges from the Clark School Board of Visitors chose the winner from among several nominations.
Published May 4, 2010