ECE Mourns the Passing of Esteemed Professor Emeritus Nicholas DeClaris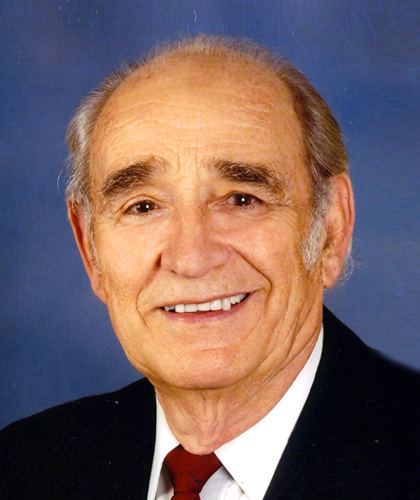 Electrical and Computer Engineering Professor Emeritus Nicholas (Nick) DeClaris has passed away in Fulton, Maryland at the age of 89, due to a blood-borne bacterial infection. Professor DeClaris joined the University of Maryland, College Park faculty in 1967 and served as Head of the Electrical Engineering Department in the College of Engineering. After stepping down as head, he continued to teach until his retirement in 2011.
Professor DeClaris was born in Drama, Greece in 1931. As a teenager during World War II, he was a resistance fighter under German and Italian occupation. Spending most of the war on the island of Andros, he ran ammunition, food and supplies to Greek soldiers and resistance groups. After the war, he moved to Texas, where he worked in his uncle's restaurant, returned to school, and eventually earned a bachelor's degree and a Jesse Jones Award for Achievement from Texas A&M University.
He went on to earn a master's and doctorate from the Massachusetts Institute of Technology (MIT). He joined the research group of Professor Guillemin, well known for contributions to the field of network analysis and synthesis in electrical circuit theory. Among Professor DeClaris's notable achievements during the 1950's was a major discovery that allowed transformerless network synthesis. This was a critical contribution to the field since transformers are large and inefficient circuit elements that are also difficult to model accurately.
After graduating from MIT, he started as an associate professor in Electrical Engineering and Applied Mathematics at Cornell University. He taught in the then new field of Artificial Intelligence and eventually chaired the University's Department of Aeronautics. In 1967, he left Cornell to accept the position of Head of the Electrical Engineering Department at the University of Maryland, a position he held until 1974.
According to Professor Anthony Ephremides (ECE/ISR), "Nick had a strong personality...all "do-ers" do. He led in his own way." This trait was again evident in Professor DeClaris' later endeavors to bring engineering principles to medicine and health science.
Professor Robert Newcomb, a long time friend and colleague of DeClaris noted that, "Nick was a very forward looking person. In the late 1960s he established the first Biomedical Engineering program in the Department."
During the 1970s, DeClaris and Newcomb negotiated one of the first academic exchange programs with Poland, between the Politechnika Gdanska and the University of Maryland.
His early work contributed greatly to the disciplines of networks, informatics and biomedical engineering. Later in his career he divided his time between the College Park campus and the University of Maryland, Baltimore. At UMB, he collaborated closely with Dr. R. Adams Cowley in planning and establishing the Shock Trauma Center at the University of Maryland Medical Center. In his role as Associate Director of Shock Trauma, he standardized medical protocols and procedures for the Maryland Institute for Emergency Medical Services Systems.
Professor DeClaris' contributions to the Department of Electrical and Computer Engineering were many. In his time as Department Head, he recruited many faculty members who would become leaders in their fields. This contributed to the department's advancement and expansion over the years.
"Nick transformed our Department in many significant ways during his tenure as Head," says Professor John Baras (ECE/ISR), who was hired by DeClaris in 1973. "He convinced me about his ambitious vision for our Department, the opportunities ahead, and persuaded me to come to UMD and turn down a competing offer by his friend and fellow student, the late and great Rudy Kalman. What happened after that is history, and proved to be the best professional decision I ever made."
Professor Baras and Professor DeClaris worked together on the National Science Foundation (NSF) proposal for the Systems Research Center (now the Institute for Systems Research). During this endeavor, Professor Baras says, "Nick frequently visited me and offered encouragement. His enthusiastic interest and support for this effort continued as ISR was evolving."
Professor DeClaris' research interests were broad and included mathematical and heuristic system methodologies, computer and cognitive system engineering, information processing, decision support, artificial intelligence, and neural networks applications to health sciences and to medicine. Upon his retirement in 2011, he was honored with a citation from then Governor Martin O'Malley.
"Nick was a steady, positive presence throughout the remaining years of his career as a faculty member," says Professor Eyad Abed (ECE/ISR).
Professor DeClaris will be missed by those who knew him.
"At his retirement party, I was able to witness Brit Kirwan praise his many contributions as a life-long researcher and educator in the presence of his colleagues and friends," says Professor Yavuz Oruc.
He "had a lively personality and a jovial sense of humor. He was jolly company and his colorful personality always generated lively discussions. He left his mark on the department," says Professor Ephremides.
After working with him on a joint position paper for a conference, Professor Abed recalls, "It was a real joy to interact with him on writing the paper, which became a chapter in the conference proceedings; Nick would light up with joy when things came together in the writing."
Professor Emeritus Kawthar Zaki also had fond memories of Dr. DeClaris, who he hired as an Assistant Professor in the Electrical Engineering Department in 1970. "I was the first woman faculty in the College of Engineering. At that time, the majority of the faculty members did not believe in having a woman faculty in the Department," says Professor Zaki. "Dr. Declaris was always encouraging and supportive throughout my career at Maryland. He was a good friend and mentor. Without his support I would not have been able to achieve my career goals."
Nicholas DeClaris is survived by his wife, Clemencia Alvarez, son John-William DeClaris, and brother Michael DeClaris of Greece. A memorial event to honor Professor DeClaris and his contributions to the department will be organized for a later date. His full obituary can be viewed here.
He was recognized by the Baltimore Sun for his influential life and career.
Published April 13, 2020