BIOE Students & Alumni Named NSF Graduate Research Fellows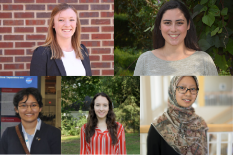 Six members of the BIOE community were named recipients of the prestigious National Science Foundation (NSF) Graduate Research Fellowship.
The NSF Graduate Research Fellowship Program was established to ensure the vitality and diversity of the scientific and engineering workforce of the United States. The program recognizes outstanding graduate students who are pursuing full-time research-based master's and doctoral degrees in science, technology, engineering, and mathematics, or in STEM education.
Callie Weber and Fauziah Rahma Zakaria are current BIOE Ph.D. candidates and awardees.
Weber is a first-year member of the Vascular Kinetics Laboratory. Her research proposal focused on sex disparities in glucose metabolism, and the implications these could have in neurodegenerative disorders, particularly Alzheimer's disease. Weber plans to use induced pluripotent stem cells that are derived into brain microvascular endothelial cells to investigate how glucose metabolism is different between cells from male and female donors.
Zakaria is a first-year member of the Biomolecular and Metabolic Engineering Laboratory. Her fellowship proposal involved the development of a biotherapeutic platform for sensing and eliminating pathogens using engineered microbes. In the face of rising antibiotic resistance, antimicrobial peptides offer an alternative method of treating pathogens. These peptides with potent antimicrobial activity may be delivered via their production by an engineered nonpathogenic microbe, allowing for specificity and regulated release. Zakaria proposed a platform in which a consortium of two engineered cell populations, a "sensor" strain and a "responder" strain, communicate to detect and eliminate a pathogen.
Three BIOE alumni - Morgan Janes ('17), Thea Ornstein ('19), and Michael Tobin ('17) - were also honored with the NSF Graduate Research Fellowship.
Janes is a first-year student in the Harvard-MIT Health Sciences and Technology Ph.D. program. The goal of her submitted research proposal is to rationally design drug delivery strategies that localize therapeutics to their target environments and are generalizable to many disease states. She hopes to optimize existing oncology-related drug classes including cytokines, antibodies, and vaccines for improved safety and broader applicability.Success in this research endeavor could help provide an alternative to tumor-specific treatment strategies, which are cost-ineffective and narrowly applicable, and traditional chemotherapies, which can be lethally cytotoxic.
Ornstein is a first-year doctoral candidate in the Georgia Institute of Technology & Emory University's Biomedical Engineering program. Her proposed research aims to show that integrin-mediated mechanics are an important predictor of bone marrow-derived mesenchymal stem cells (BMSC) fate and thus a promising new and complementary biomarker to understand BMSC functional potential. Ornstein hypothesizes that creating an assay to quantify integrin traction forces in BMSCs will provide a new dimension to classify and sort these diverse cell populations.
Caitlyn Singam is a biological sciences alumna who is set to complete her master's in systems engineering in December 2020. Over the past few years, she has worked as a researcher with the UMD Robert E. Fischell Institute for Biomedical Devices. Singam recently accepted admission into BIOE's Ph.D. program, where she will continue her research.
Singam's proposal is a continuation of her undergraduate work harnessing engineering and biology to design and program a payload that could study the bacterial biological profile of the upper atmosphere. While scientists have long acknowledged the presence of these "high-flying" bacteria populations, there is still little known about how high-altitude colonies of bacteria can affect weather, or what causes the concentrations of these bacteria to change over time.
"The long-term goal is to democratize the science involved, so that people can collect longitudinal data from anywhere, across the country and across the world, about different microbiological profiles of the atmosphere, to see what sorts of things live at various altitudes and to determine whether that changes based upon the geography of the region below," Singam said.
Published April 13, 2020