Damena Agonafer: Taming Thermal Management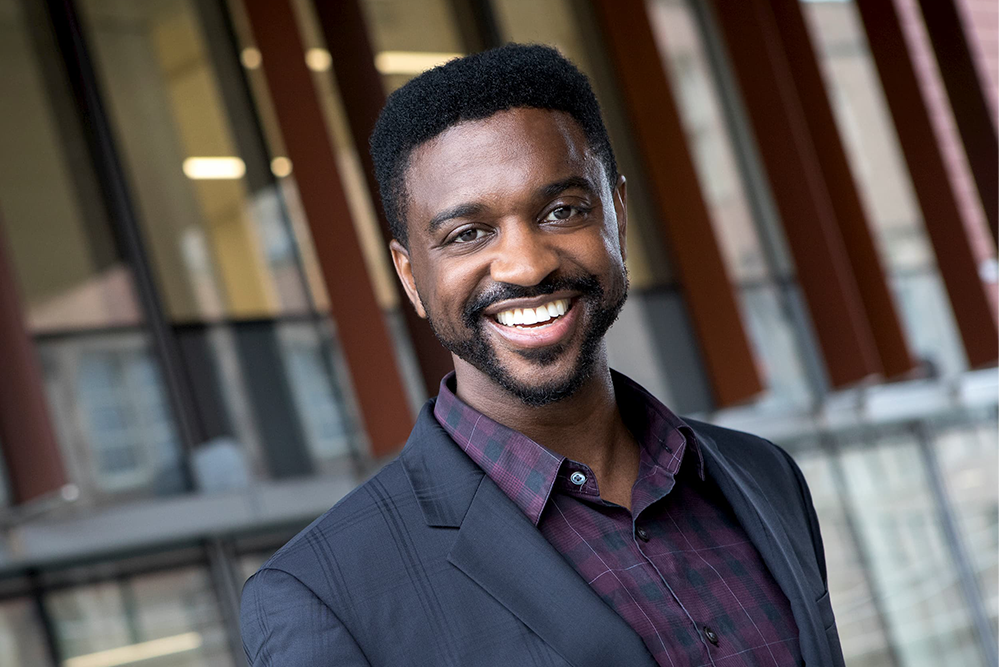 Want to make electronic systems more environmentally friendly and efficient? One important step is to improve the way they regulate their own temperatures. Case in point: data centers.
These are the hubs, found in almost any major organizational facility, that house the IT network's servers and associated equipment. As UMD associate professor of mechanical engineering Damena Agonafer points out, they are voracious consumers of energy. According to the U.S. Department of Energy, data centers consume the equivalent of 10 to 50 times the energy per floor space of a typical office building, and the amount is on the rise.
Indeed, by 2030 they could be eating up as much as 8% of global consumption, with thermal management alone accounting for around a third of that figure, said Agonafer, who joined the UMD faculty in September 2022 as an associate professor with tenure. An expert on thermal-fluid sciences, interfacial transport, and renewable energy, Agonafer aims to help rein in energy consumption by designing an innovative hybrid cooling system.
"Not only do data centers consume significant amounts of energy, but much of that energy isn't even going to IT functions," Agonafer said. "It's going to thermal management. Both for environmental reasons and for the sake of efficiency, there's a real need to reduce the amount of energy needed to run these cooling technologies."
Agonafer's interest in data centers represents only one facet of his research, which investigates heat transfer and cooling processes across a variety of applications, including development of an embedded evaporative cooling module for heterogeneous integrated chips; thermal management of wide-band gap semiconductor (WBD) devices and consumer electronics; and cryogenic cooling for quantum computing. As the demand increases for ever-more compact devices, interest is surging in micro- and nanoelectronics. Agonafer and his research group work at this scale, devising novel technologies that can enhance the process of phase transfer—that is, the transition between different states, such as solid and vapor. A major focus of his group is on streamlining heat transfer by tuning and controlling solid liquid vapor interactions at micro and nano scales.
"Climate has finally started to engage public attention, in a way that is fostering more avenues to conduct needed research. It's clearly an area where mechanical engineers have an important contribution to make."
The big picture issue of climate change provides a framework for much of his work. "Climate has finally started to engage public attention, in a way that is fostering more avenues to conduct needed research," he said. "It's clearly an area where mechanical engineers have an important contribution to make." Those contributions could take many forms, from the development of low-power, high density batteries to HVAC systems that require only a fraction of the power being used by today's systems. With his focus on improving the efficiency of cooling systems, Agonafer is helping to build the foundations for improved technologies of this kind.
A graduate of the University of Texas at Arlington, Agonafer earned his master's degree at Carnegie Mellon before completing a doctorate in the mechanical science and engineering department at the University of Illinois—Urbana-Champaign. At UMD, he has been named the inaugural Clark Faculty Fellow—a new recognition established at the A. James Clark School of Engineering by Dean Samuel Graham, Jr.
He says he was drawn to UMD by, among other things, the expertise and resources available, including energy sustainability-focused research hubs such as the Center for Environmental Energy Engineering (CEEE) and the Maryland Energy Innovation Institute, as well as the Center for Advanced Life Cycle Engineering (CALCE), which conducts research with the potential to enhance U.S. competitiveness in electronics and chip manufacturing. Sustainability and competitiveness are both critical priorities that demand engineering expertise, Agonafer noted, citing the 2022 Creating Helpful Incentives to Produce Semiconductors (CHIPS) Act and the 2022 Inflation Reduction Act (IRA).
"It's a good time to be working in these domains," Agonafer said.
Another draw: UMD's commitment to providing an academic environment that provides opportunities and a welcoming academic environment to a diverse population of students and faculty.
"UMD is a flagship university that not only conducts high impact research but has made a significant effort to foster diversity, equity, and inclusion among students, faculty, and staff. That's extremely important," Agonafer said.
Published October 5, 2022