UMD Launches High School Business Plan Competition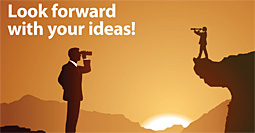 The University of Maryland is hosting the first statewide high school business plan competition in Maryland.
The Maryland High School Business Plan Competition gives entrepreneurial high school students the chance to win up to $10,000 in cash and prizes for the best ideas for new ventures. Initial entries, due April 9, require just an executive summary. Students can enter at http://hsbpc2012.istart.org.
"At the University of Maryland, we are committed to fostering and supporting entrepreneurship at all levels," said James V. Green, director of entrepreneurship education at the Clark School's Maryland Technology Enterprise Institute (Mtech), which is managing the competition. "This is especially important during the critical high school years, when energies and ideas flourish. We want to encourage and reward the students generating those ideas."
All high school freshmen, sophomores and juniors in the State of Maryland are invited to apply. Team sizes can range from one to five students.
Semi-finalists will be invited to develop full business plans, with finals held at the University of Maryland campus in June.
Cash prizes will be awarded to the top teams. Awards also include scholarships to the Entrepreneurship Essentials Online Program for High School Students.
Mtech also hosts the University of Maryland $75K Business Plan Competition, now in its twelfth year, which encourages UMD students, faculty and researchers to leverage their talent and ideas to create tomorrow's leading companies. The competition process, its network of expert mentors and partners and the cash prizes awarded have helped many UMD entrepreneurs act on their dreams and build their own companies.
The competition has spurred companies such as Squarespace, Lurn, AnthroTronix, Alertus Technologies, RioRey (then MacroPhage), Remedium Technologies, FlexEl, Resensys and Traffax.
Mtech offers programs, courses, workshops and competitions to help aspiring entrepreneurs learn how to bring their ideas and products to the world.
Mtech's entrepreneurship education programs feature an average of 25 for-credit entrepreneurship courses enrolling about 1,000 students annually, two living-learning programs, one community college transfer program, seed funding, and mentoring. Mtech's overall programs add to these offerings with product development funding, free intellectual property services, entrepreneur office hours, a venture accelerator, prototype lab, incubator, and additional support for companies throughout their lifecycles.
Published March 30, 2012