Sandborn Named IEEE Fellow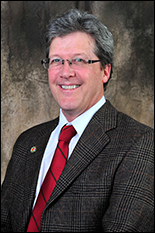 Department of Mechanical Engineering Professor Peter Sandborn was elevated to Institute of Electrical and Electronics Engineers (IEEE) Fellow, one of the highest distinctions awarded to IEEE members who have achieved innovation and excellence in the field of engineering.
Sandborn, who also serves as director of the Maryland Technology Enterprise Institute (Mtech), was recognized for his contributions to the analysis of cost and life-cycle of electronic systems. Sandborn earned both his M.S. and Ph.D. in electrical engineering from the University of Michigan, and he became a professor at the University of Maryland in 1998.
Sandborn is a professor in The Center for Advanced Life Cycle Engineering (CALCE) where his group develops obsolescence forecasting algorithms, performs strategic design refresh planning and lifetime buy quantity optimization. Sandborn also performs research in life cycle cost modeling areas including maintenance planning and return on investment analysis for the application of prognostics and health management (PHM) to systems, total cost of ownership of electronic parts, transition from tin-lead to lead-free electronics and general technology tradeoff analysis for electronic systems.
Established by a small group of engineers in 1884, IEEE has grown to become a global institution. Their mission is to foster technological innovation and excellence in the field of engineering, for the betterment of humanity.
An IEEE fellowship is one of the most prestigious awards granted by the institute, and less 0.1% of voting members are annually selected for this recognition.
For more information on Dr. Sandborn, visit his faculty webpage or his website.
For more information on IEEE, please visit their website.
Published January 30, 2014