Tavis Smiley and the University of Maryland Announce Winners of $75K Social Innovation Challenge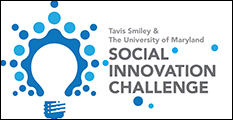 Broadcaster Tavis Smiley and the University of Maryland have announced the winners of the $75,000 TS/UM Social Innovation Challenge. The winners are:

Alexander Moore and Mike Curtin, DC Central Kitchen (Washington, DC)
DC Central Kitchen provides 5,000 meals to DC's shelters and nonprofits each day and offers culinary training to jobless, at-risk adults. Its latest endeavor is called Healthy Corners, a response to the crises of 'food deserts' and inequitable access to healthy food of its kind in America. Through job training, healthy food distribution, and local farm partnerships, DC Central Kitchen offers path-breaking solutions to poverty, hunger, and poor health.
Christopher Brown and Kamilla Kovacs, BUILD Metro DC (Washington, DC)
BUILD is a targeted four-year entrepreneurship and college readiness program for students that are socio-economically most disadvantaged and academically most disengaged. BUILD's mission is to use entrepreneurship to excite and propel disengaged, low-income students through high school to college success. To date, 99 percent of BUILD seniors have graduated high school and been accepted to college, changing their life trajectories.
Derrius Quarles, Million Dollar Scholar (Chicago, IL)
Million Dollar Scholar is an education technology and services solution that creates scholarships for deserving students by offering an instructive web platform that educates high school and college students on how to be successful in the scholarship and grant processes for higher education. Million Dollar Scholar seeks to address both the issues of higher education affordability and the shortage of high school counselors by creating a standardized scholarship and financial aid curriculum that can be made available to students across the nation.
Each of the three winners will be awarded a $25,000 prize. Additionally, each winning entrant will have an opportunity to be a guest on the Tavis Smiley Network, receive an entrepreneur mentorship at the Clark School's Maryland Technology Enterprise Institute (Mtech), and showcase their innovation at Platform Summit 2014, an event aimed at exploring the role of diversity in the innovation economy.
"The winners' ideas creatively address critical challenges facing the United States and the global community," said Smiley. "Our Social Innovation Challenge is an investment in the minds of the future, and we look forward to seeing the positive change these innovations bring about."
"All of the Social Innovation Challenge entrants offered inspiring ideas for social change through innovation and entrepreneurship," said the University of Maryland's A. James Clark School of Engineering Dean and Farvardin Professor, Darryll Pines. "The winners embody the spirit of innovation we were seeking, and we believe they will make a great impact through their outreach and community efforts."
Announced last summer, the TS/UM Social Innovation Challenge invited aspiring entrepreneurs to develop transformative solutions to affect positive change for individuals and communities across the nation. Entrants were asked to submit innovative ideas targeting the key impact areas of education, hunger, and sustainability. A total of 56 entries were submitted, representing 23 states across the nation, as well as the District of Columbia. The field was narrowed to seven finalists based on the executive summaries and videos the entrants created to describe their social innovations. The seven finalists were interviewed by the TS/UM Social Innovation Challenge panel of judges, who selected the three winners based upon the following criteria: originality and innovation, business model approach, experience of team, potential scalability of business, potential for return on investment, and social impact.
The TS/UM Social Innovation Challenge supports the Tavis Smiley Foundation's initiative to dramatically reduce poverty in America and the University of Maryland's commitment to increase the number and quality of new businesses inspired by competition to create a large and strong new generation of entrepreneurs who benefit society. For more information about the TS/UM Social Innovation Challenge, visit www.tavissmileysocialinnovator.com.
Published January 31, 2014