Professor Pecht Visits the World's Largest E-Waste Recycling Facility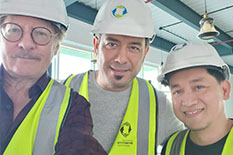 CALCE Director Prof. Michael Pecht visited the EnviroServe e-waste recycling and management facility, also known as The Recycling Hub, in Dubai, UAE. The Recycling Hub is the world's largest integrated recycling facility for electronic waste, with a capacity of recycling 40.000 tons of electronic waste and a processing capacity of 100,000 tons of total integrated waste per year.
During this visit, Pecht was able to see this facility in full operation, with the goal of bringing efficient electronic waste processing to the United States, especially in Maryland. Additionally, he looked at the way EnviroServe handles li-ion batteries to apply to CALCE's research in battery reliability and safety.
As the issue of e-waste management and its global impact continue to worsen, CALCE researchers are looking into potential solutions for the disposal, processing, and recycling of electronic waste. In the book "The True Cost of Waste: Current Issues in Electronic Waste," authors Dylan Hazelwood, Michael Pecht, Dr. Maria Sanchez, and Dr. Davinder Anand look further into the cost, impact, and issues caused by e-waste.
For more information about this visit, please contact Prof. Pecht.
Published January 16, 2020