Sandborn Named Interim Director of Mtech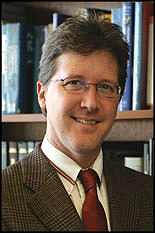 Professor and Associate Chair of Mechanical Engineering Peter Sandborn has been named interim director of the Maryland Technology Enterprise Institute (Mtech). Sandborn will replace Professor David Barbe, who is retiring from the university at the end of the year. Sandborn will begin his new position in January.
Sandborn is a member of the Center for Advanced Life Cycle Engineering (CALCE) at the University of Maryland where his research group develops life-cycle cost models and business case support for long field life systems including obsolescence forecasting algorithms, strategic design refresh planning, lifetime buy optimization, and return on investment models for maintenance planning. He has authored or co-authored more than 200 publications that have appeared in journals, conference proceedings, book chapters and books. Sandborn has served as committee chair, conference chair, associate editor, editorial board member, and board member for the ASME, IEEE and International PHM Society. He has a B.S. degree in engineering physics from the University of Colorado, and an M.S. degree in electrical science and Ph.D. degree in electrical engineering from the University of Michigan.

Sandborn will begin his new position in January 2013 following the leadership of David Barbe, professor and director of Mtech. Barbe will formally step down from his position as Mtech director and retire from the University of Maryland at the end of this year. Barbe has served the A. James Clark School of Engineering and the University of Maryland with distinction for 29 years.
Mtech was founded in 1983. Its mission is to educate the next generation of technology entrepreneurs, create successful technology ventures, and connect Maryland companies with university resources to help them succeed. Mtech offers over 25 courses on entrepreneurship as well as services for faculty, staff, and students to turn their technology ideas into reality. Mtech's programs have helped create or retain over 7,000 jobs and have had a $27.8 billion impact on the Maryland economy.

The program has fueled several successful startups and has helped many successful businesses thrive as a result of unique partnerships between academia, government, and industry. Its Maryland Industrial Partnerships program (MIPS), celebrated 25 years of funding collaborative research and development projects between companies and university faculty on November 7.
Published November 13, 2012