Hicks Named Permanent Director of Cybersecurity Center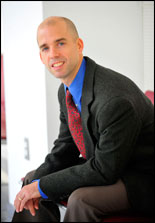 ECE-affiliate, Assistant Professor Michael Hicks (CS/UMIACS) has been selected as the first permanent director for the University of Maryland's Cybersecurity Center (MC2).
Hicks' research in ECE focuses on bridging the areas of systems and programming languages. He has frequently applied or developed language-based technology to solve systems problems, particularly in networking and distributed systems.
The University created MC2 last year, partnering with government and industry to provide educational programs to prepare the future cybersecurity workforce, and develop new, innovative technologies to defend against cybersecurity attack.
"It's a tremendous honor and privilege to serve as the Director of the Maryland Cybersecurity Center," said Hicks. "We have talented and outstanding faculty across the University who are already conducting impressive and innovative research in cybersecurity and bringing new insights from that research to the classroom." In addition to this strong foundation, Hicks added, "the important and growing partnerships we have with industry and government will help cement the Cybersecurity Center as a national leader in this field."
The corporate and academic research institutions allied with MC2 in its first year include the following partners: Lockheed Martin, SAIC, Tenable Network Security, Google, and Lincoln Laboratory at MIT.
"Michael Hicks is a great choice to lead our Maryland Cybersecurity Center," says Clark School of Engineering Dean Darryl Pines. "Michael is a first-rate scholar and a leader in the security research community. He has the vision and passion to solve the great security problems of our time. I have no doubt whatsoever that the work of the center will have a great impact on our region, state and nation."
Patrick O'Shea, UMD vice president for research and ECE professor, applauded Hicks' selection.
"I'm delighted that Professor Hicks will take the lead in promoting our comprehensive approach to cybersecurity that involves the human and technical aspects of this emerging field," says O'Shea. "Mike is one of the nation's leading researchers in the area of provably correct, secure programs and has exceptional leadership skills," adds Davis. "He is a great choice as the Center's first director."
Published November 21, 2011