CapWIN Receives IMPACT Award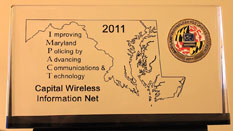 The Capital Wireless Information Net program at the Center for Advanced Transportation Technology within the department of Civil and Environmental Engineering at the A. James Clark School of Engineering has been presented with the Improving Maryland Policing and Advancing Communications and Technology (IMPACT) Award.
The award was presented to CapWIN at the first annual Maryland Technology for Law Enforcement Conference by Maryland State Police Superintended Marcus Brown, Lieutenant Scott Keyser, and Sergeants Chris Corea and Julio Valcarcel. CapWIN received a warm and welcome applause for the program from the more than 200 attendees; many of whom represent the CapWIN user community.
About CapWIN
The Capital Wireless Information Net (CapWIN) is a program located in the University of Maryland's Center for Advanced Transportation Technology (CATT) that was created by, and continues to operate under the direction of a coalition of law enforcement, fire/EMS, and transportation agencies in Maryland, Virginia, and the District of Columbia to advance data communications across agency, jurisdiction, government, and discipline boundaries. For more information about CapWIN visit www.capwin.org.
Published November 18, 2011