Fischell Institute to Test Face Coverings for Children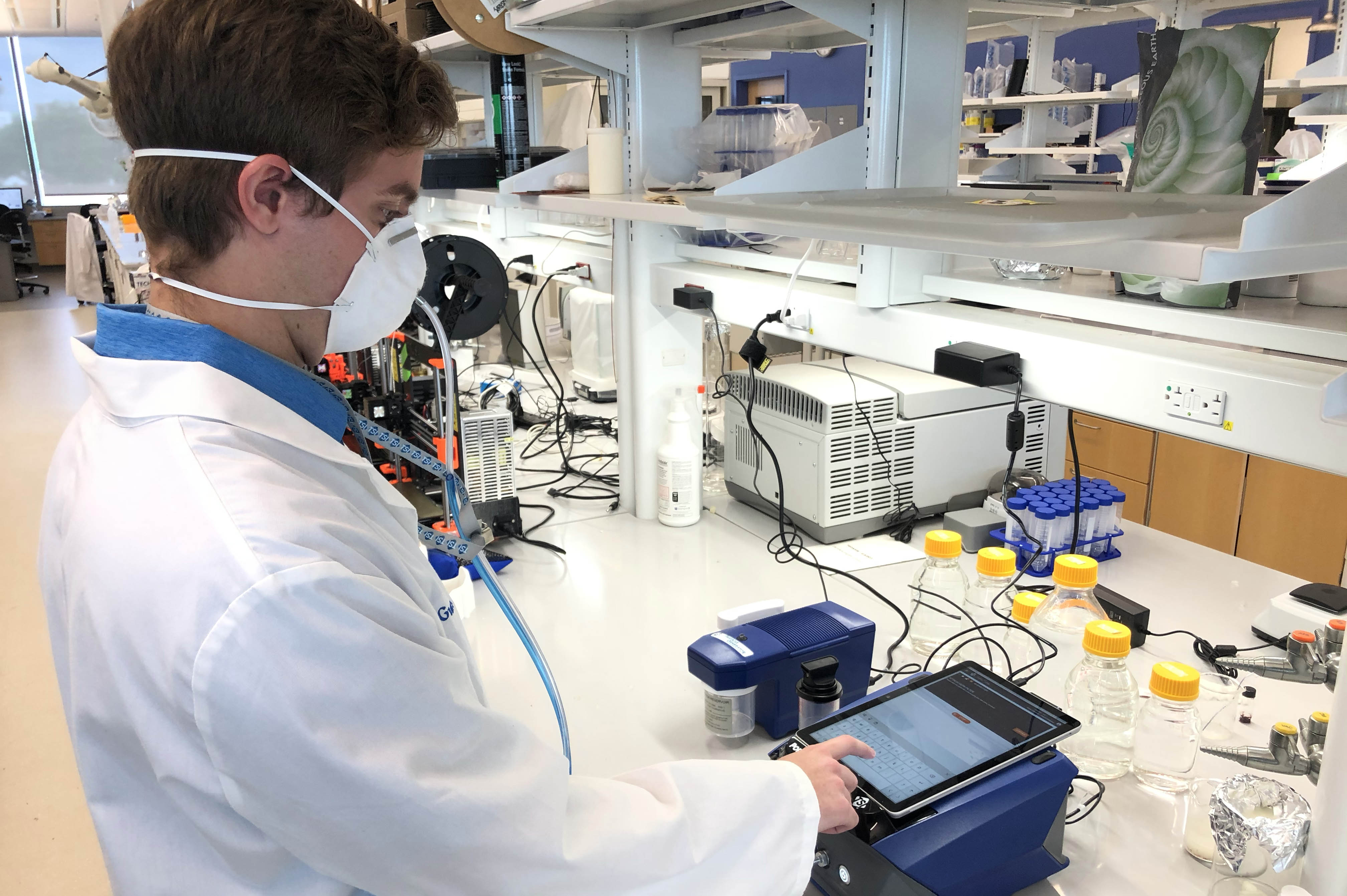 University of Maryland Robert E. Fischell Institute for Biomedical Devices researchers are working to capture data that could one day shed light on the fit and efficacy of airway personal protective equipment (PPE) designed to protect children from COVID-19 or other airborne diseases. Currently there is no existing U.S. standard for pediatric populations.
Recognizing that children have diverse facial anatomy, the Fischell Institute's foundry engineers are using state-of-the-art respirator testing equipment to assess the performance of airway PPE when exposed to aerosolized particles. In line with this effort, Children's National Hospital will conduct clinical trials that will help to verify the fit and effectiveness of PPE for children. The data obtained from the study could one day help manufacturers produce masks and respirators that adhere to current standards or otherwise help to shape standards, especially for pediatric populations.
The current lack of U.S. standards for pediatric respirator masks has allowed for the manufacture and marketing of products that do not provide the protection that children may need.
Recently, the Fischell Institute began working with Aegle, a Texas-based manufacturer of NIOSH-approved N95 respirators, to provide fit and efficacy data. Aegle aims to develop a five-layer children's ear loop-style face covering to provide safe and reliable protection against transmission of the COVID-19 virus, other airborne particles, and pollution from wildfires. According to a company press release, the mask will be designed to provide PPE that is comfortable, compliant, and compatible with children's health and development.
"We are thrilled to work alongside industry and clinical partners to further this groundbreaking effort," said Fischell Institute director William E. Bentley. "Together, we aim to validate the performance of children's masks in a way that is similar to the N95 used for adults. We are tremendously proud to be a part of this collaborative effort to address a public health challenge affecting one of the populations most vulnerable to communicable diseases."
Fischell Institute engineers use Air Techniques International's 100X Automated Filter Tester to verify the degree to which respirators filter inhaled airborne particles. This in-demand equipment enables the team to collect data to advance understanding of how a particular face-covering or respirator might protect the wearer from COVID-19 or other airborne viruses or contaminants. In addition, Fischell Institute engineers use a TSI Portacount Respirator Fit Tester to carry out quantitative fit tests.
The Fischell Institute and the Sheikh Zayed Institute for Pediatric Surgical Innovation at Children's National Hospital are lead partners in the National Capital Consortium for Pediatric Device Innovation (NCC-PDI). NCC-PDI is one of five U.S. Food and Drug Administration-funded nonprofit pediatric device consortia focused on facilitating the development, production, and distribution of pediatric medical devices.
Published January 28, 2022